It goes without saying that the Digital Revolution has boosted the demand for digital marketers. Digital marketing has quickly become a requirement not just for businesses but also for sales and marketing professionals.
In India now, digital marketing has more job openings than any other sector, including IT. There are numerous career opportunities for digital marketers in Bangalore's metropolitan area.
Digital marketing institutes abound in Bangalore, hoping to cash in on the growing demand. However, only a few have established themselves. The top 10 digital marketing courses in Bangalore are listed below:
9 Best Digital Marketing Courses in Bangalore
1. DMatic Digital – Google Rating 4.9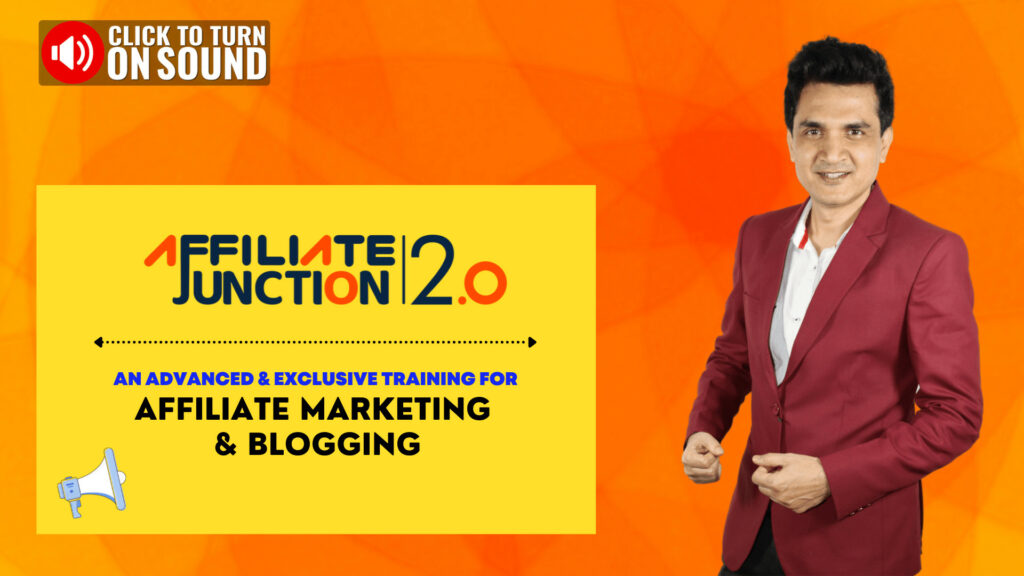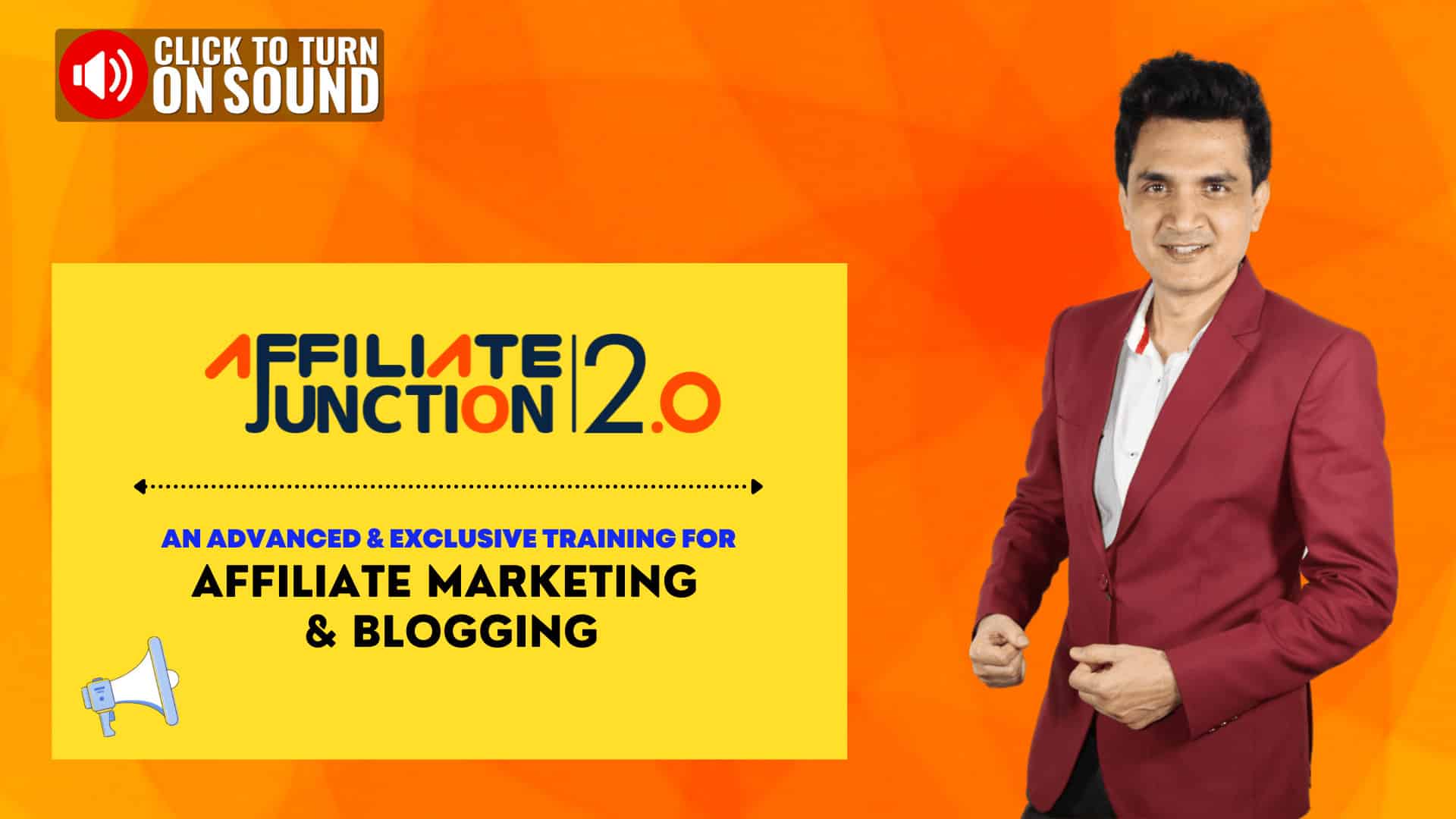 DMatic Digital is one of India's most prestigious digital marketing training institutes. The company, Multiline Solutions, was founded in 2007. Later, its name was changed to Dmatic Digital. The company began offering digital marketing training in 2012, and through its training centre, YouTube channel, and blogs, it has trained over 50,000 people.
Pritam Nagrale, a dedicated and accomplished digital marketer, blogger, and YouTuber, created the company.
It was founded in 2007.
Course duration – 90+ Hour 
Founder – Pritam Nagrale 
Dmatic Digital Pvt Ltd is located at 306, Amanora Chambers, Amanora Park, Hadapsar, Pune 411028
 The courses that they have are: 1. Advanced Digital Marketing course, 2. Affiliate Junction 2.0. 3. Content Writing Course
For more information on courses, check this – Affiliate Junction – Most Advanced Course On Affiliate Marketing.  
Dmatic Digital Social media platforms – Facebook, Instagram, Youtube, Twitter, Linkedin
You should go with DMatic Digital since their pricing is fair and, in some cases, even lower. At the same time, our master trainer, Mr Pritam Nagrale, and other faculty members provide you with personalised training and help. You will be provided with certification for these courses once completed.
2. IIDE – Google rating is 4.8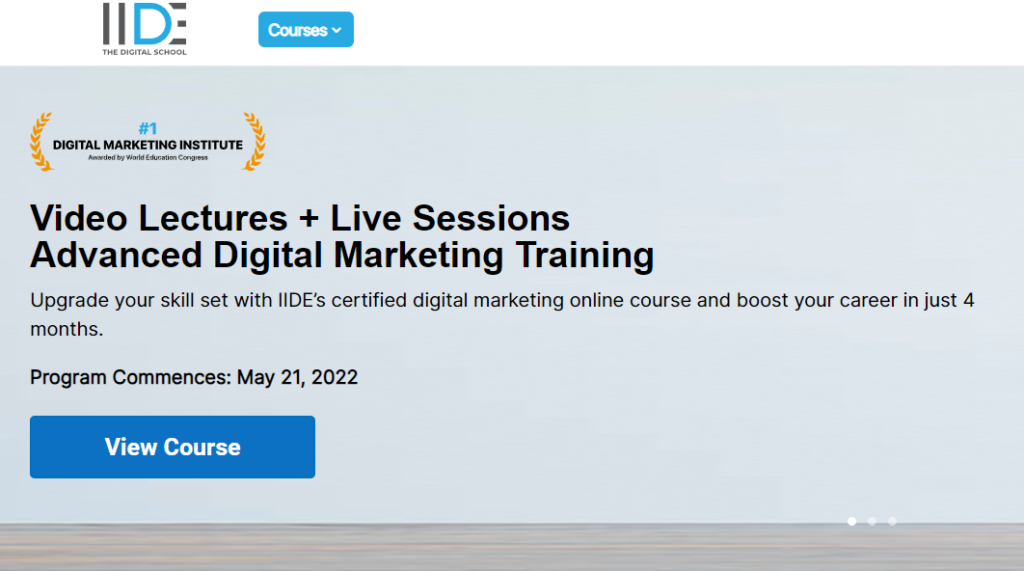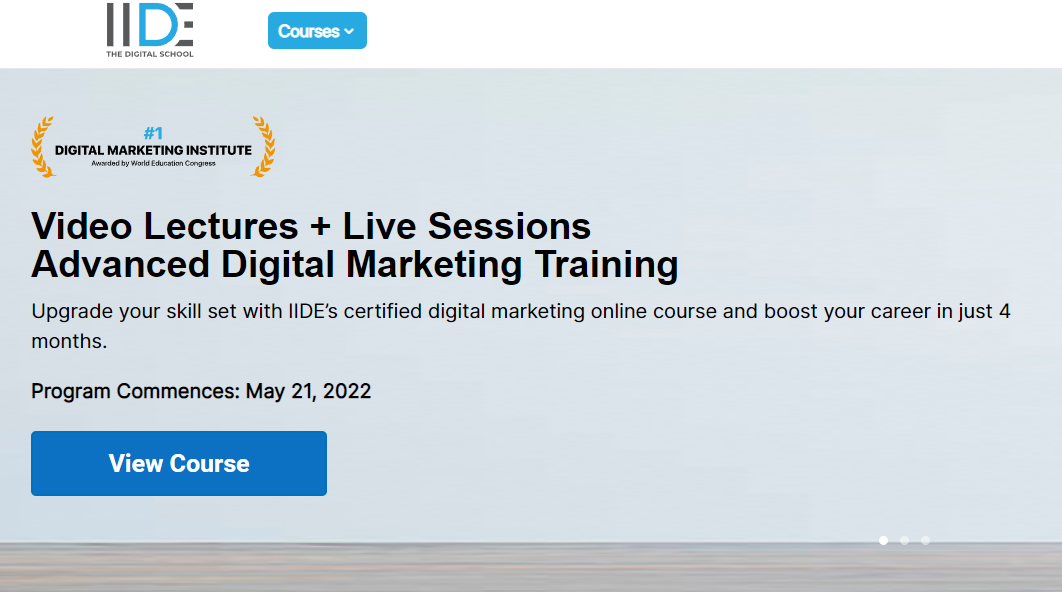 It offers a comprehensive online digital marketing course with 13+ certifications and a cutting-edge educational style. Students can take advantage of high-quality self-paced video courses taught by renowned business executives and experts.
If students have more inquiries or concerns, they can reap the benefits of 1-on-1 mentoring opportunities with one of the top coaches for a complete query-solving session.
After you've completed each module, IIDE will provide you with a certificate of participation. You will earn 12 certificates once you have completed all of the modules.
It was founded in 2016.
Course duration: 2 to 4 months
Fees: Rs 72,033 + taxes
Founder: Karan Shah
Address: #212, 1st BC Cross, East of NGEF Layout, Kasturi Nagar, Bengaluru, Karnataka 560043, in front of Kanti Sweets
IIDE is Asia's most reputable digital marketing training and certification organization, assisting students in transforming their professions and becoming future-ready.
They provide personalized programs to meet the needs of all individuals and provide an enjoyable learning environment.
Also Read:
3. EduPristine – Google rating is 4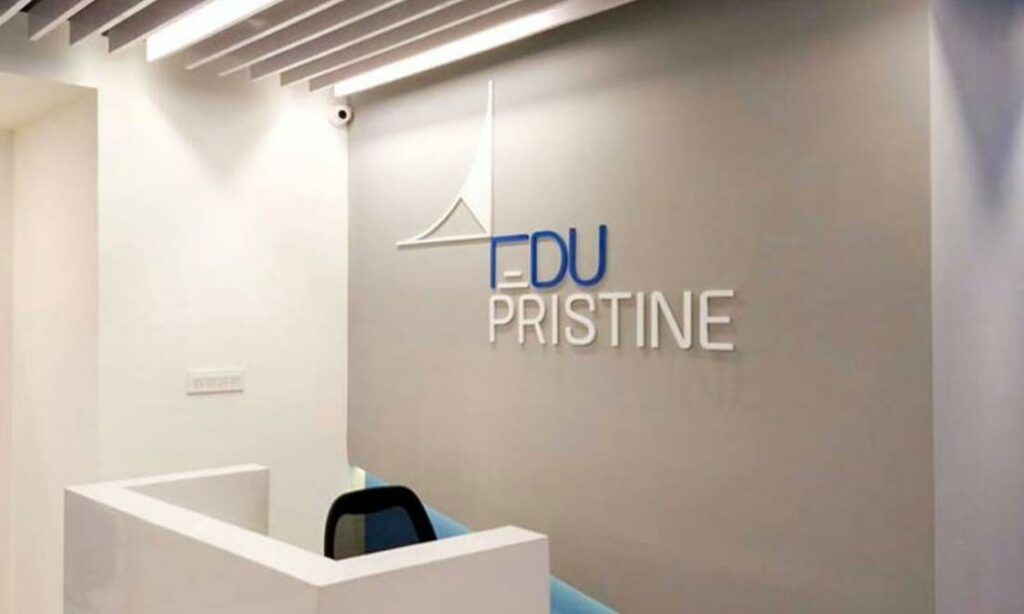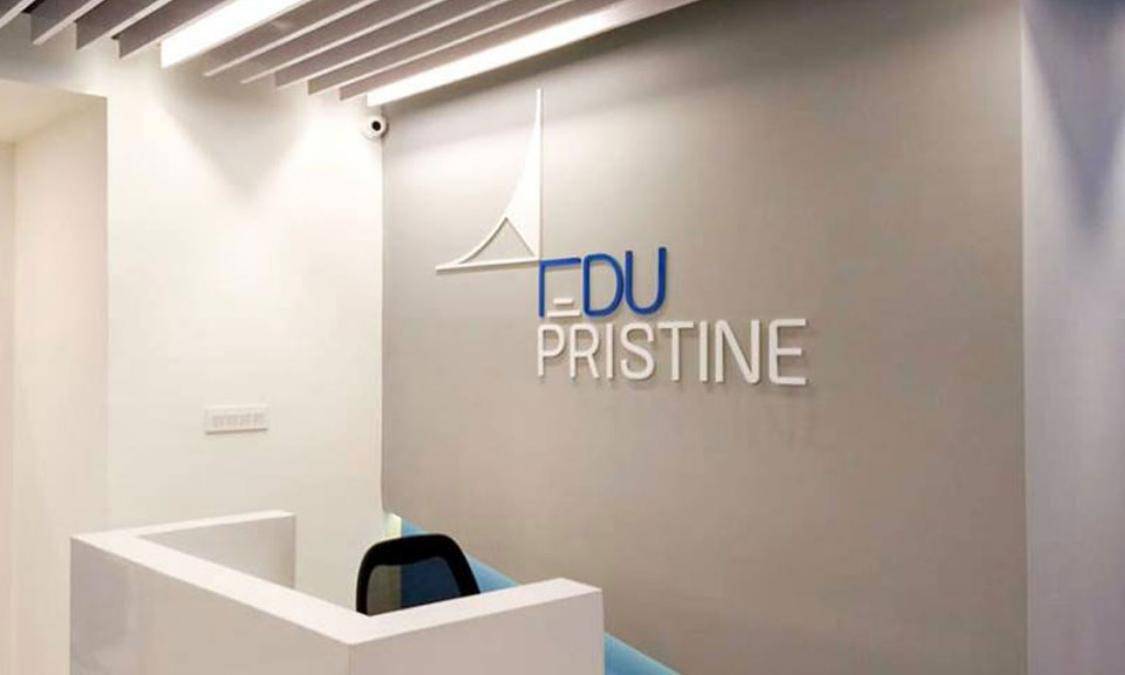 EduPristine has established a powerful online platform and a network of classrooms across India, catering to self-paced, online, and classroom study.
Today, Fortune 500 organizations, professionals, and students all over India trust EduPristine.
It was founded in 2008.
Course duration: 12 days.
Fees: Rs 51,000
Founder – Sarita Chand, Pawan Prabhat, Atul Kumar, and Paramdeep Sinha
Address: Rainmakers Workspace is located at 213, 2nd Mahatma Gandhi Rd in Bengaluru, Karnataka 560001.
The courses that they offer are:
An Introduction to Digital Marketing
Search Engine Optimization:
Mobile Marketing & Optimization
SEM-PPC
Social Media Marketing
Email Marketing
Marketing Automation
Affiliate Marketing
Funnel Marketing & Growth Hacking
Web Analytics
Content Marketing & Conversion Rate Optimization
Case studies and assignments
For almost thirteen years, EduPristine has been educating students. The faculty at EduPristine are industry experts that understand the ins and outs of the industry.
4. Digital Kora – Google rating is 4.9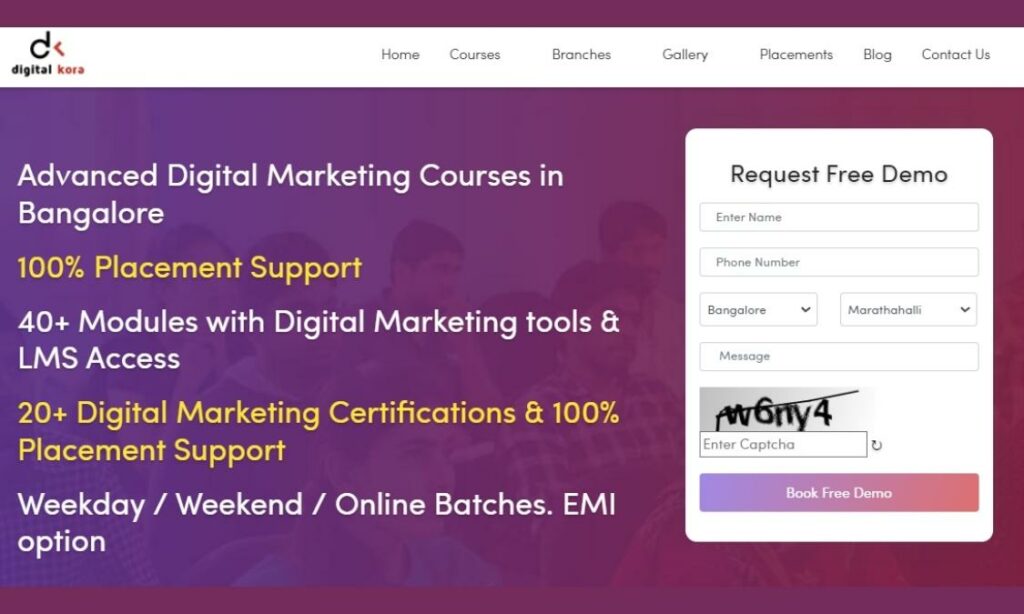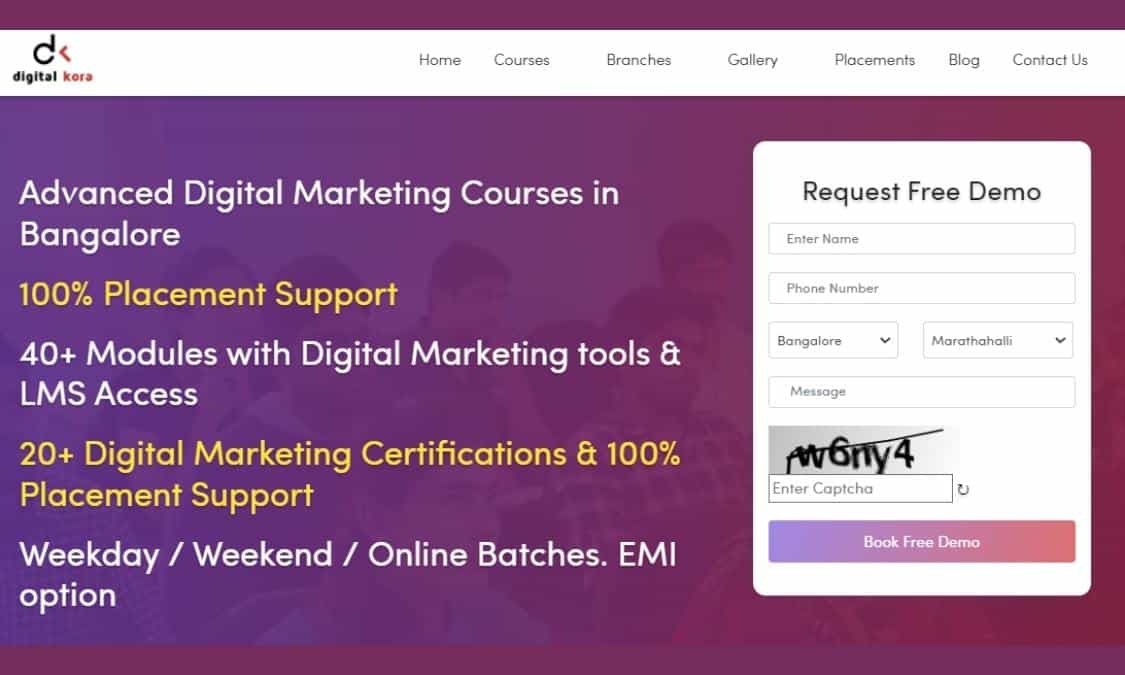 In Bangalore, Digital Kora is a well-known institution in the field of digital marketing. It provides unsurpassed instruction in a variety of national and international digital marketing courses.
With 10+ years of experience and 100% placement, they have successfully taught 5000+ students in 8+ places.
It was founded in 2011.
Course duration: 1 hour of class per day and 4 hours of practice per day
Fees: Rs 20,000
Founder – Surendra Nath
Address: 3rd floor, next to Ezone shopping mall, above Ramdev medicals, SGR Dental College Rd, opposite Radisson Blu, next to Adishwar showroom, Munnekolala, Karnataka 560037
The courses that they offer are:
An Overview of Digital Marketing
Search Engine Optimization (SEO)
WordPress Website Design & Development
Google PPC Advertising
Social Media Marketing
Online display Advertising
Social Media Marketing
Email Marketing
Lead Generation
Affiliate Marketing
Google Analytics
SMS marketing
Google My Business
App Installation Ads
Video making
This course will be a good fit for you, whether you're a student, a working professional, an entrepreneur, or a stay-at-home mom.
They offer 100% placement assistance and have over 60 hiring partners. You can even phone and schedule a free demonstration lecture.
5. AIMA – Google Rating is 4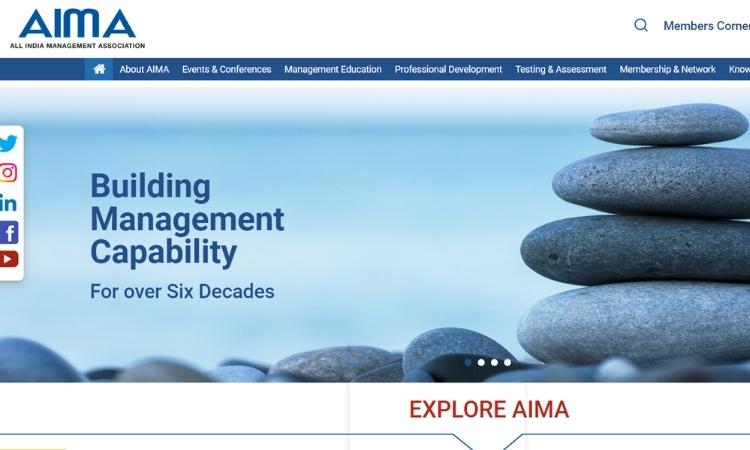 It collaborates with the government, businesses, universities, and student organizations. AIMA aims to improve management learning by delivering various skill enhancement programs.
In response to the growing need for digital marketing experts, AIMA has partnered with DigitalVidya to offer a Professional Certificate in Digital Marketing.
This course covers advanced digital marketing concepts and applications, as well as how to use a variety of digital marketing and analytical tools properly.
It was founded in 1957
Course duration: 5 months
Fees: Rs 49,900
Founder – Brian Kim
Address: AIMA, 1403-1404, Prestige Meridian-2, 14th Floor, M.G. Road, Bangalore-550011, Karnataka
The courses that they offer are:
Mobile Marketing Module:
Search Engine Optimization (SEO)
SEM (Search Engine Marketing)
Display Ads and Analytics
Marketing on social media
Marketing by Email
Content Marketing
AIMA works tirelessly to assist students with job placement and to guarantee that they are placed in appropriate positions.
6. IMRI- Google Rating is 4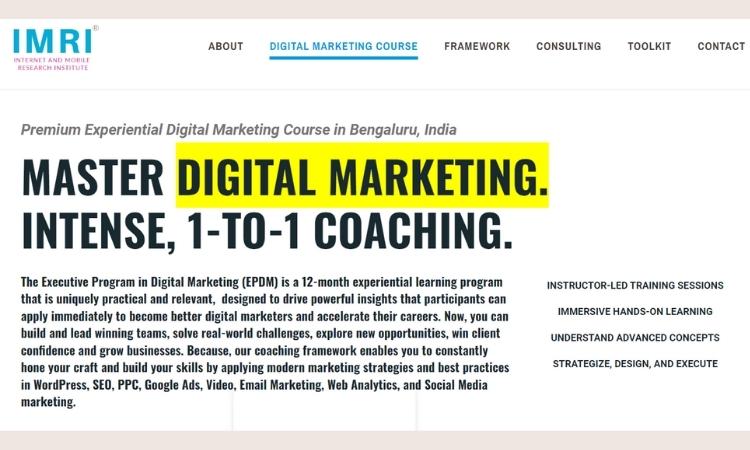 They provide a one-of-a-kind, immersive digital marketing training program that focuses on developing knowledge and abilities through hands-on experience and individual learning.
The classes are usually held on weekends, with a clear focus on providing participants with valuable insights in order to help them advance their careers in the digital marketing landscape. They believe in hands-on learning and provide participants with ongoing support.
It was founded in 1992.
Course duration: 3 months
Fees: Rs 45,900
Founder – Mr. M.S Kumar
Address: TF-6, No.13, 3rd Floor, City Point Building, Infantry Rd, Shivaji Nagar, Bengaluru, Karnataka 560001
The courses that they offer are:
UI / UX Design
SEO (Search Engine Optimization)
PPC (Pay-Per-Click)
Social Media:
Video Marketing
Mobile Marketing
Marketing by Email
Web Analytics
IMRI, as one of the best digital marketing courses in Bangalore, believes in a hands-on approach.
As a result, the courses offered here are entirely practical, with students working on real-world projects. Not only that but the pupils' performances are evaluated on a regular basis.
7. Digital Academy 360 – Google rating is 4.9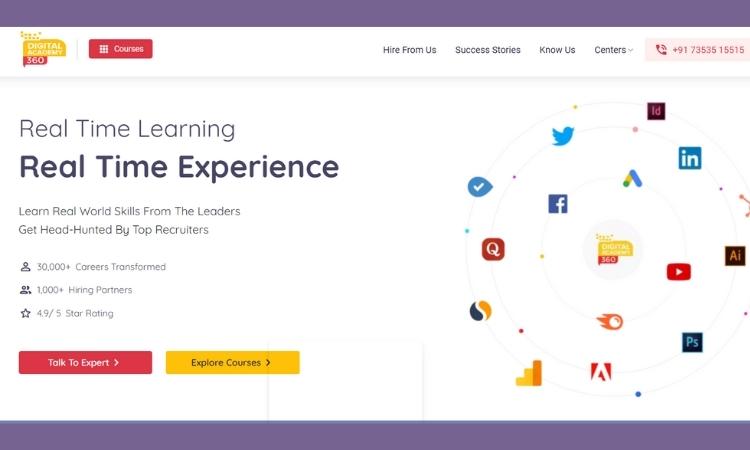 It is one of the leading Digital Marketing training institutes in Bangalore, offering one of the best Digital Marketing courses. It has various locations throughout the city.
They were named 'The Best Digital Education Institute' by Education Times and Knowledge Hunt. They have trained over 2000 students and are well-known for providing excellent placements.
It was founded in 2015.
Course duration: 2.5 months to 5 months.
Fees: Rs 25,000 to Rs 80,000
Founder – Mr. Yogesh Shashi
Address: 5, 1st Floor, Above Med-Plus, 41st Cross, 22nd Main Rd, Jayanagar, Bengaluru, Karnataka 560069
The courses that they offer are:
Digital Marketing Introduction
WordPress Website Designing
Google Ads
Social Media Marketing
Email Marketing
Affiliate Marketing
App Store Marketing
Digital Marketing Competitor Analysis
The institution has trained over 15000 students and had over 1000 classes. It provides 15+ digital marketing certifications and is the only institute that guarantees "100% placements or a complete refund of fees for qualifying students."
8. NIDM – Google rating is 4.9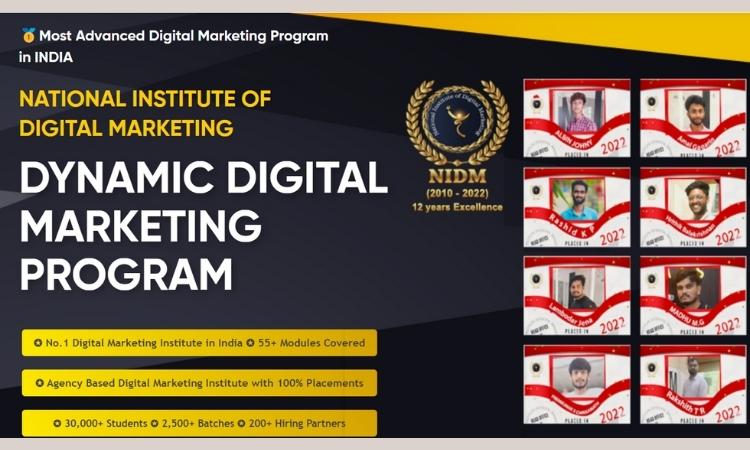 It is yet another reputable institute in Bangalore that offers digital marketing courses. NIDM has an exceptional track record, having trained over 10,000 candidates and placed them all.
Short-term courses are available at NIDM for students, job seekers, and professionals. The courses are offered both online and in the classroom. It also provides corporate training.
It was founded in 2011
Course duration: 2.5 months
Fees: Rs 50,000
Founder – Mr M.S. Kumar
Address: #152, 13 Main Road, 1st Cross, beside A2B Hotel, BTM Layout, Bengaluru, Karnataka 560068.
The courses that they offer are:
An Introduction to Digital Marketing
digital marketing strategies.
Google certified Ad words, Professional.
Google Analytics Certified Professional
Search Engine Optimization (SEO)
Lead Generation Campaign
Affiliate Marketing: Business Process Development.
Start-up Consulting: Social Media Marketing
Online Branding
SEO
SMM
SEM
E-Email Marketing
Google AdSense
Affiliate Marketing
Google Analytics
Blogging
It is a pioneer in digital marketing training with a 12-year history. In total, the institute has trained 22,054 students across 2,000 batches.
9. Upgrad – Google rating is 3.8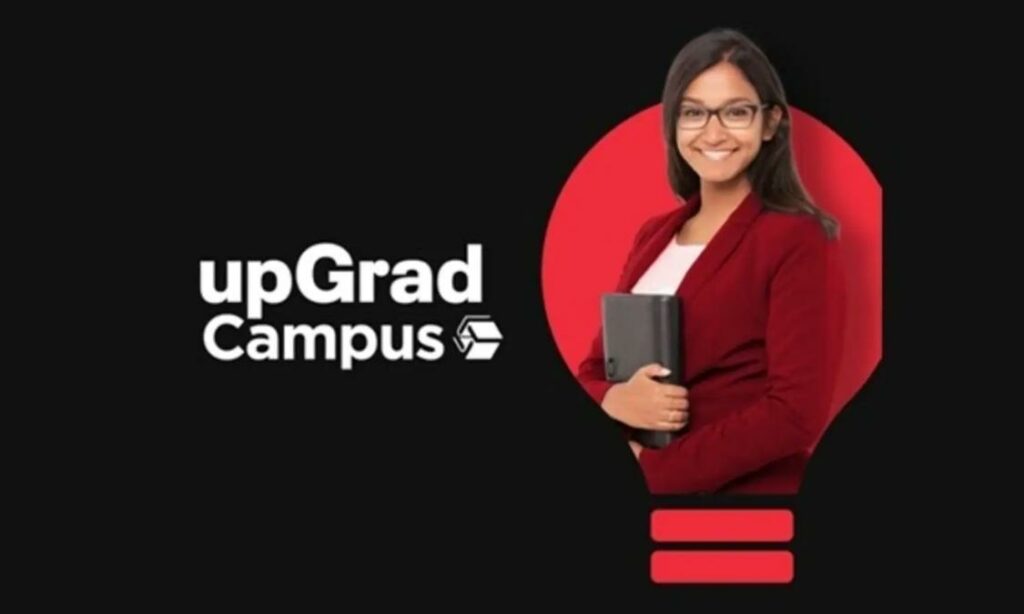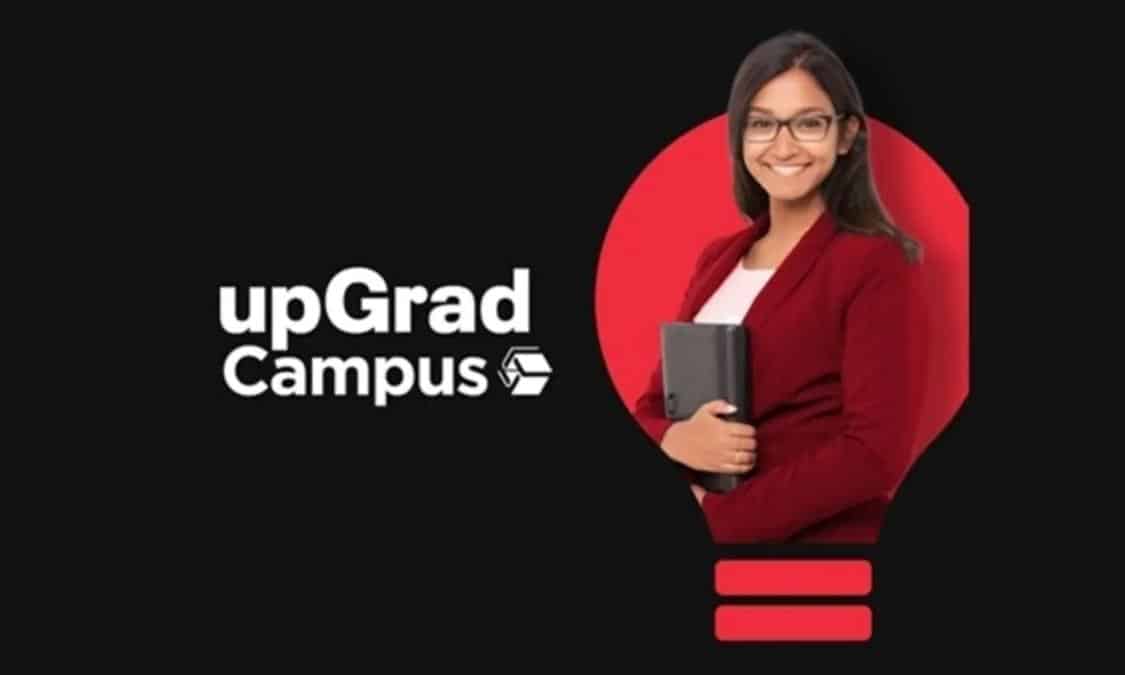 UpGrad is a web-based platform that offers higher education and industry-relevant training programs. It is the largest higher education technology company in South Asia.
They use the latest technology, pedagogy, industry partners, and world-class academics to provide engaging online learning experiences for our learners all around the world.
It was founded in 2015.
Course duration – 6.5 months
Fees: Rs 22,500
Founders: Ronnie Screwvala, Ravijyot Chugh, Phalgun Kompalli, and Mayank Kumar,
Address: Amarjyothi Layout # 546, H.B, C.S, Domlur, Bengaluru, Karnataka 560071
The courses that they have are:
Marketing Fundamentals
Digital Channel Deep Dives
Digital Channel Deep Dives
Marketing Analytics and Integrated Strategy
Specialization in Branding and Communications
A Specialization in Marketing Analytics
specialization in social media and content marketing.
UpGrad began working with relevant colleges and industry partners to develop an excellent learning experience for students and professionals looking to advance their careers.
UpGrad provides a Post Graduate Certificate in Digital Marketing & Communications that is designed and taught by industry experts.
Conclusion
Digital marketing is the field to choose if you want a high-paying job. It's one of those jobs where the rewards in terms of time and money outperform expectations.
It's a rewarding career with plenty of possibilities for advancement. Given the increased demand for digital marketers, you should surely take advantage of this opportunity and begin your digital marketing career.