Mumbai is known as the city of dreams. You can make everything happen for you in this "mayanagari". You dream, you work, and you achieve. Mumbai is also a hub for ample startups and successful businesses. They are now growing faster than they have in any previous era. What's the reason?
Well, we've got multiple reasons for that, but the digital revolution has made a big impact. Digital marketing is a product of this revolution. Today it is possible to reach every corner of the world and make a difference.
Social media, emails, entertainment, food, lifestyle, and shopping stores are a few things for which we regularly connect to the internet. Businesses know this and thus send you some target ads so you can easily get what you're looking for.
This has created jobs, professionals and even specialized digital marketing service providing institutions. You can be an SEO executive, web designer, digital agency account manager, Content writer, Web developer, conversion and rate optimizer, and a lot more.
So before you start your career, you need to feed yourself with the right knowledge. There's no better way than a quality course by some experienced experts. Let's look at the 9 best digital marketing courses in Mumbai in this article.
Also Read: Top 10 Best Digital Marketing Courses in India
9 Best Digital Marketing Courses in Mumbai
1. Dmatic Digital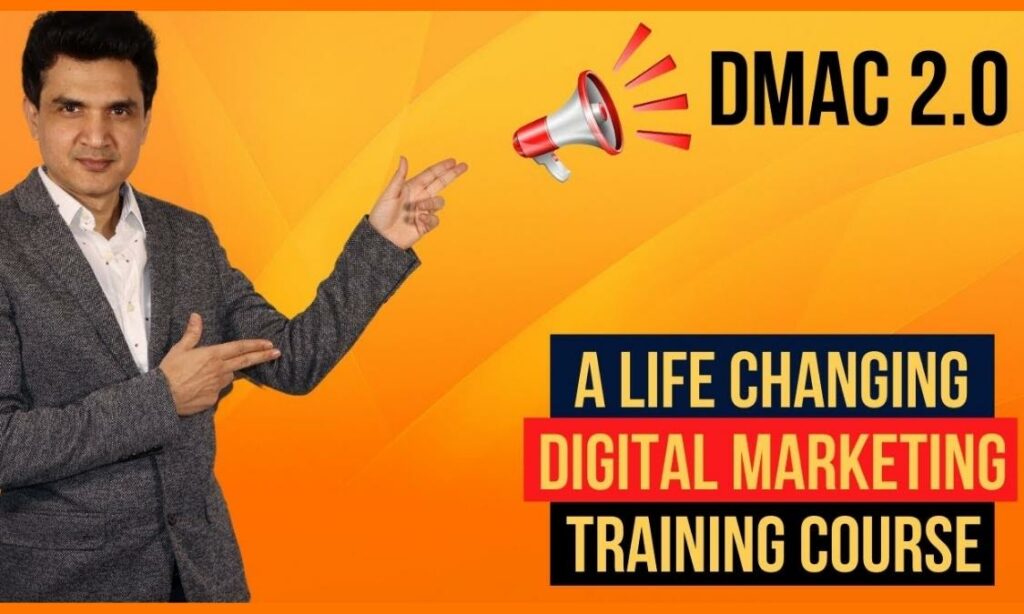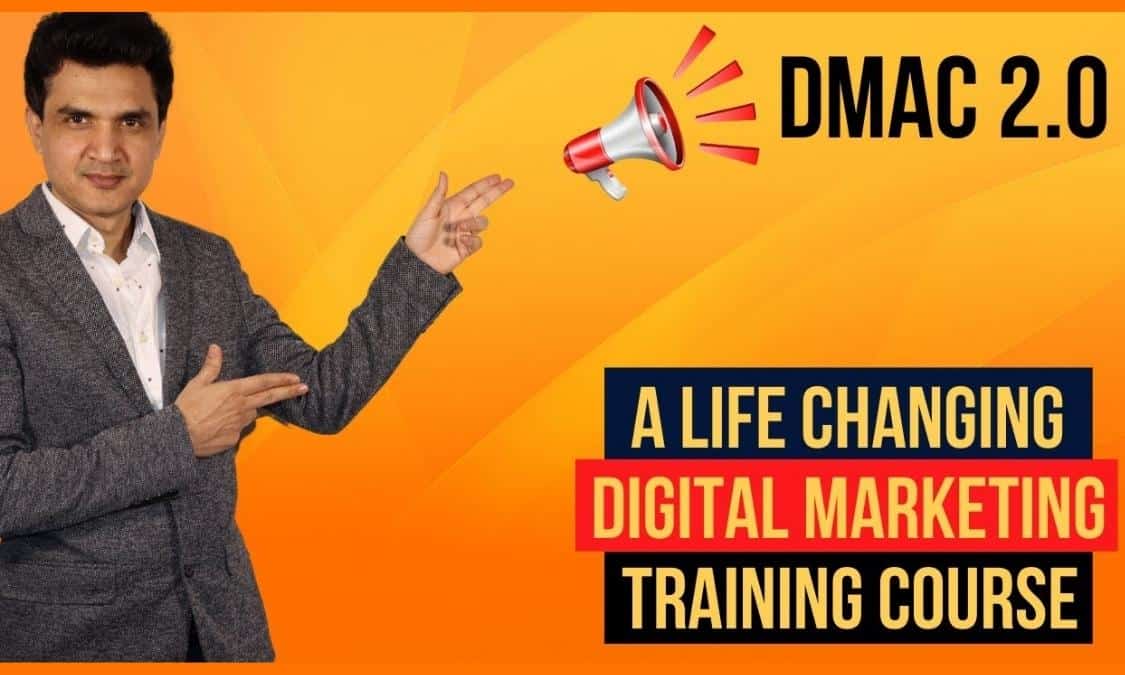 Dmatic Digital offers a hamper of all the skills you'd currently need to turn into amazing digital marketing professional. You will learn from an engaging curriculum that is carefully packed into 50 distinct modules.
This carefully curated syllabus is taught by someone who's lived in this digital marketing world for sixteen precious years.
Dmatic Digital started as a digital marketing company way before it was a buzz. It was founded by Mr Pritam Nagrale, who is currently a very successful Youtuber, blogger, trainer and entrepreneur.
The key highlights of the course are:
Guaranteed internship along with the training
Premium digital marketing tool
More than 12 global certifications
150 hours of training and 150 hours of assignment
Over 5 case studies
Worked on 3 real-life projects
100 percent practical training
Soft Skills training and development
The syllabus decided by Dmatic is one of the most comprehensive ones. It includes Search Engine Optimization(SEO), Social Media Marketing(SMM), Pay Per Click(PPC), Online Reputation Management(ORM), Google Adsense, Google analytics, landing page creation, Media buying and selling, content writing, affiliate marketing, website creation, blogging, lead generation and so much more.
2. IIDE – Indian Institute of Digital Education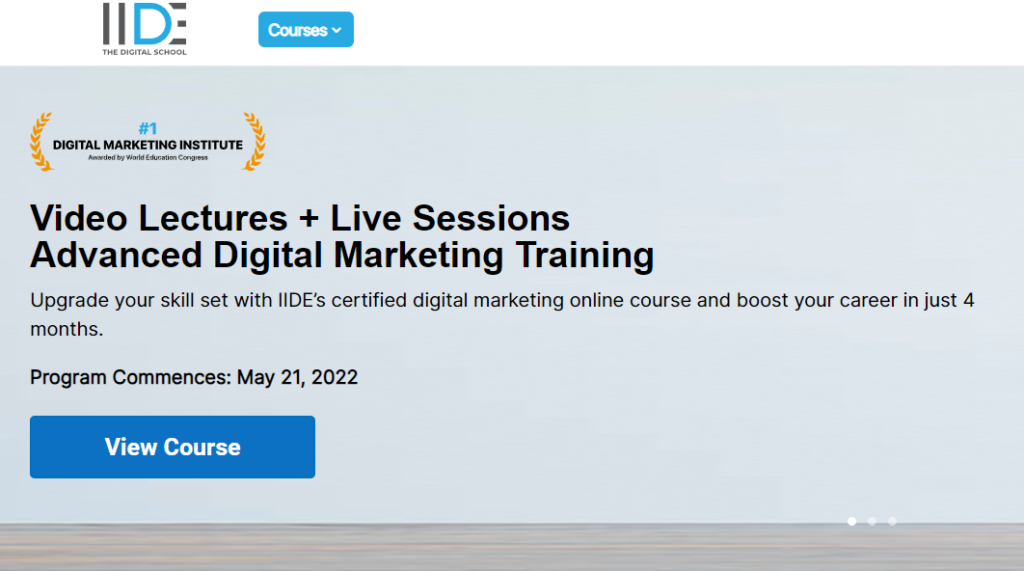 IIDE has got four centers in Mumbai and has won various awards to date. They also launched an MBA in digital marketing so you can pursue higher studies in this field.
It is an 11 month On-campus program and gives you an MBA equivalent exposure. But, let's talk more about their 4 month certification program.
The key highlights of IIDE's 4 month program are:
Live class of 70+ hours
Videos of 40+ hours
One on one mentoring sessions
Mastery of more than 20 industrial tools
100 percent placement assistance
Resume and interview training
8 brand projects
Zero percent EMI options available
Soft Skills training
The topics they cover are distributed into eleven modules. They include Introduction to digital marketing, Website planning and E-commerce development, Search marketing and blogging, Creating marketing content and campaign planning, Organic social media marketing, SMM, Brand reputation management, Media planning, buying and optimization, analytics and reporting, projects and mentoring and managerial and soft skills.
Year of beginning – 2016
Founder – Karan Shah
Fees – INR 72,033 +taxes
Course duration- 110+ hours
Mode of teaching – online 
Contact details – https://iide.co/contact-us/
Visit here for more information-https://iide.co/online-digital-marketing-course/
3. EduPristine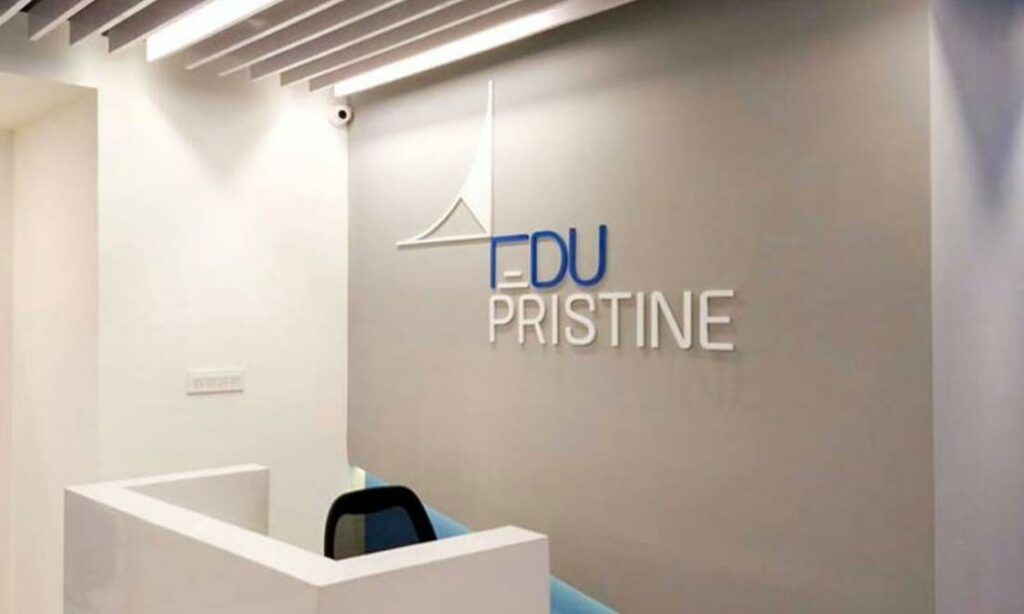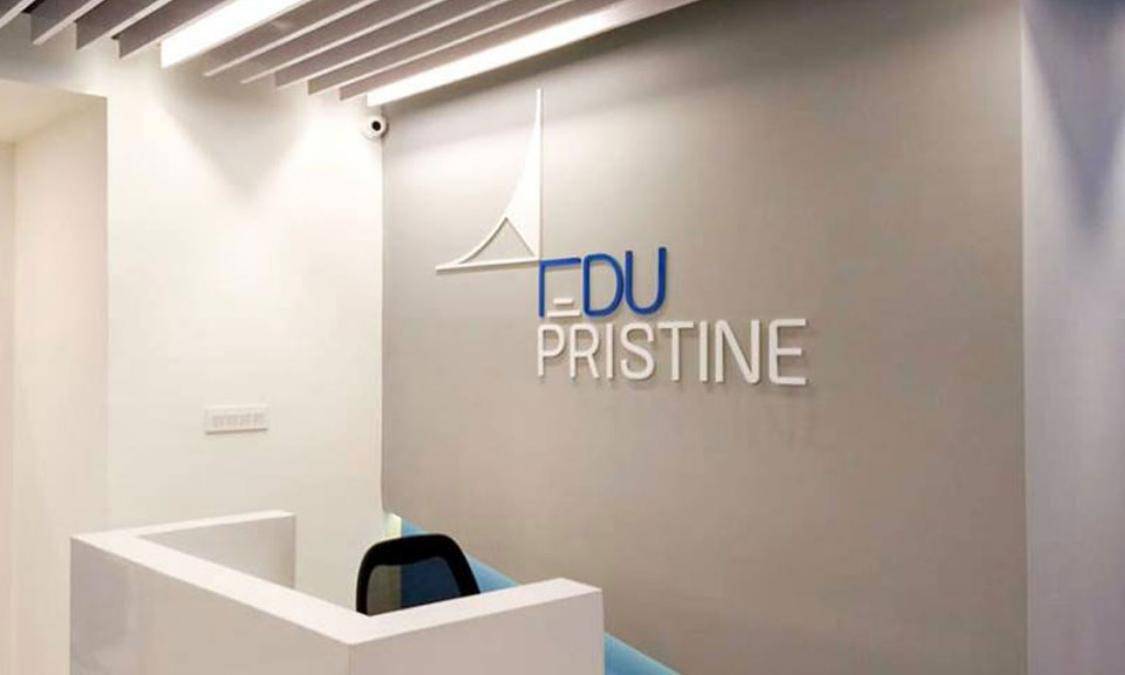 A program taught by a few of the best trainers in the industry. EduPristine's digital marketing course is a 150+ hour intensive program that covers more than 40 modules and tools.
EduPristine is one of the largest and oldest training providers in accounting, finance, marketing and analytics.
They have now formed a team of 250 faculty members who are experienced as well as capable to deliver intensive and proficient training to its students.
Key highlights of the course are:
100 hours of instructor-led training
15-hour soft skill training
Self-paced learning content
Case study for real-life practice
6 month assured web hosting
24*7 access to their LMS for a year
Placement assistance
After course engagement
Digital library
Soft skills training
Dedicated discussion forums
It covers a range of topics like SEO, SMM, PPC, google analytics, google adsense, Web analytics, affiliate marketing, etc. One of the best parts is the task you'll be given towards the end of your course.
The task is to form a comprehensive digital marketing plan like a strategist for a brand of your choice. You also learn soft skills such as interview preparation, client-oriented strategy, the art of pitching, etc.
4. LIPSindia – Lavenir Institute of Professional Studies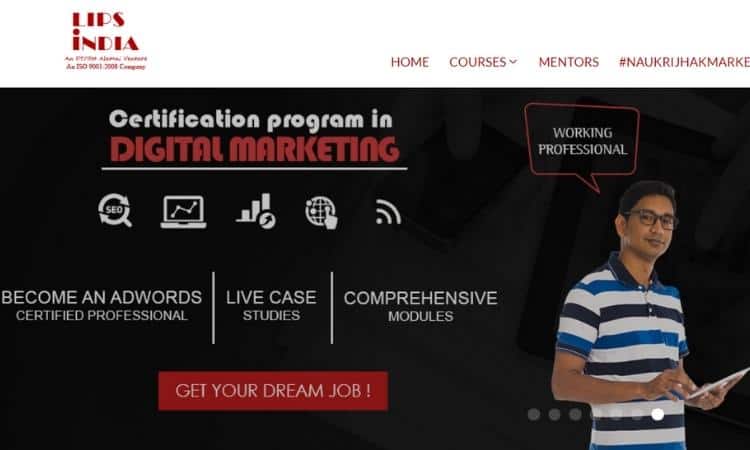 LIPS India is a premium digital marketing training institute. If you have already attended a digital marketing course from any other and aren't satisfied with that, you can avail 50 percent discount or discount equivalent to your course fees.
The students here can attend any session at any of their branches even after completion of their course without any fees.
Key highlights of the course are:
Creating a real-time live campaign on Google Adwords
Access to paid email platforms to learn email automation
Unlimited server space for WordPress learning and website creation
Trainers support for any problems faced in real-time
Placement support
Conducts 30 batches every month
The course here has one of the most intensive and exhaustive curriculum. The syllabus covers all the topics in detail. You study topics such as SEO, google adwords, social media, email marketing, Conversion Rate Optimizer(CRO), Google Tag Manager, Video optimizations, Ad server display, content creation, affiliate marketing, WordPress CMS, mobile marketing, and so much more.
Fees – Rs 17,500- Rs 32,000
Course duration- 3 Months+
Mode of teaching – online or offline
Contact details –
Visit here for more information- https://www.lipsindia.com/
5. DMTI SoftPro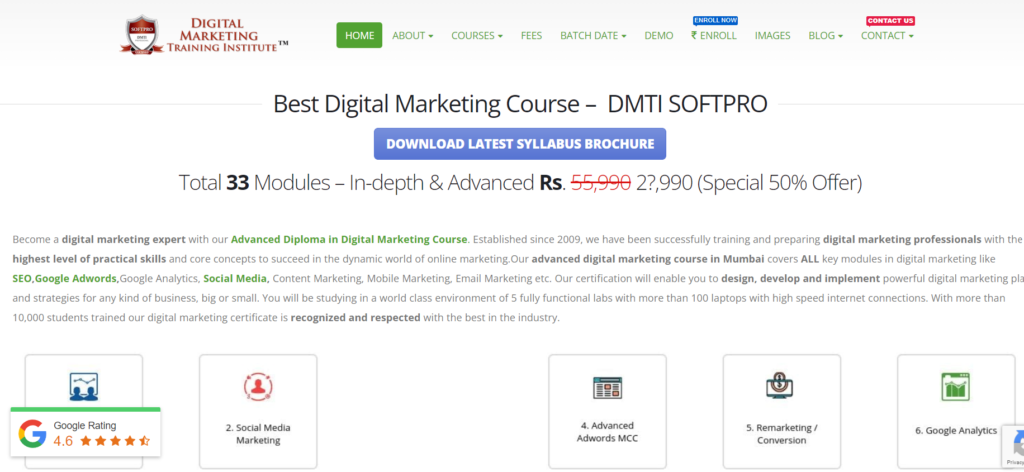 DMTI is a part of Softpro institute, established in 1992. It has trainers with experience in this field for more than ten years.
They are certified professionals by google. DMTI has 3 well-known centers in Mumbai and has qualified students of more than 573 batches.
Key highlights of their course are:
Hands-on practical experience
Trainers with experience of more than ten years
30 modules
100 percent pavement assistance
21 ebooks
Library of 108 videos
The course focuses on topics like SEO, SMM, PPC, advanced ads, google analytics, ORM, blogging, content marketing, affiliate marketing, WhatsApp marketing, landing page marketing, forum ad marketing, lead generation, google webmaster, google Adsense, freelancing techniques, video creation, etcetera.
Year of beginning – 2009
Founder – Rashmi Putcha
Fees – Rs 26,990
Course duration- 75+ hours
Mode of teaching – online or offline
Contact details –
Visit here for more information- https://dmti.co.in/
6. IIM Skills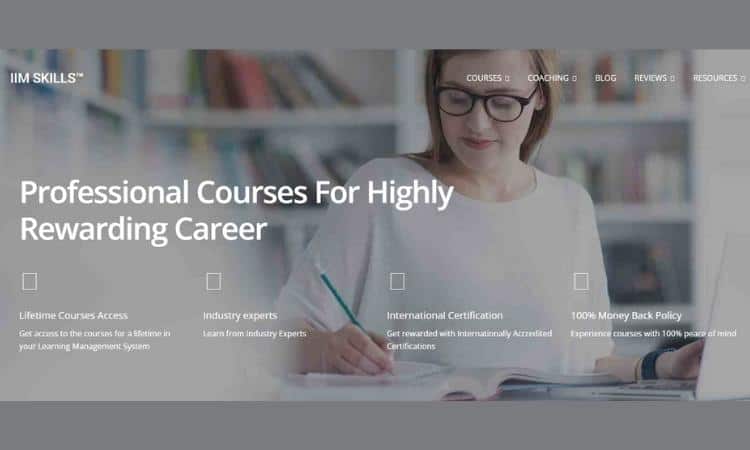 IIM skills stands amongst one of the world's leading online services and are already present in 23 cities in India.
They have been rated #1 by blogs like careers360, advisor uncle and course report. They conduct highly interactive and engaging sessions. Also, you enjoy career counselling
Key highlights of the course are:
2 months guaranteed paid internship
3 months program
15+ live projects
10+ case studies
Tools worth 79000+
Letter of recommendation + certification
More than 300 placement partners
Launch your podcast with apple, google and Spotify
120+ hours of practical training
The topics covered include SEO, web development at WordPress, SEM, Email marketing, inbound marketing, SMM, media buying and planning, web analytics, affiliate marketing, video marketing, marketing automation, and digital infographics resume creation.
Year of beginning – 2015
Founder – Vaibhav Kakkar
Fees – INR 37,500+
Course duration- 120 hours
Mode of teaching – online or offline
Contact details –
Visit here for more information- tel:+91 9911839503
7. Compufield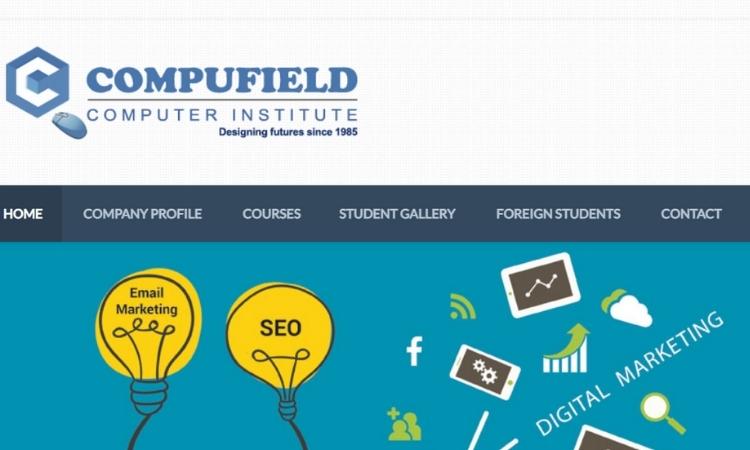 Compufield was founded long ago, in the year of 1985. It started as a computer institute but has eventually grown and now offers a wide range of courses.
It is a comprehensive course with more than 21 modules, live projects and assignments.
Highlights of the course:
Google/Youtube certified
Weekend sessions are also available
Duration of the course divided in 60 sessions
Guaranteed industry placements
More than seven global certificates
60 hours of comprehensive training
15 hours of live projects
The course syllabus includes SEO, SMM, PPC, lead generation, WhatsApp marketing, content writing, affiliate marketing, google webmasters tool, google adwords, etc.
Year of beginning – 1985
Founder – Slmanally Khairaz
Fees – INR 25,500
Mode of teaching – online or offline
Contact details –
Visit here for more information- +91 9820134058
8. Digital Vidya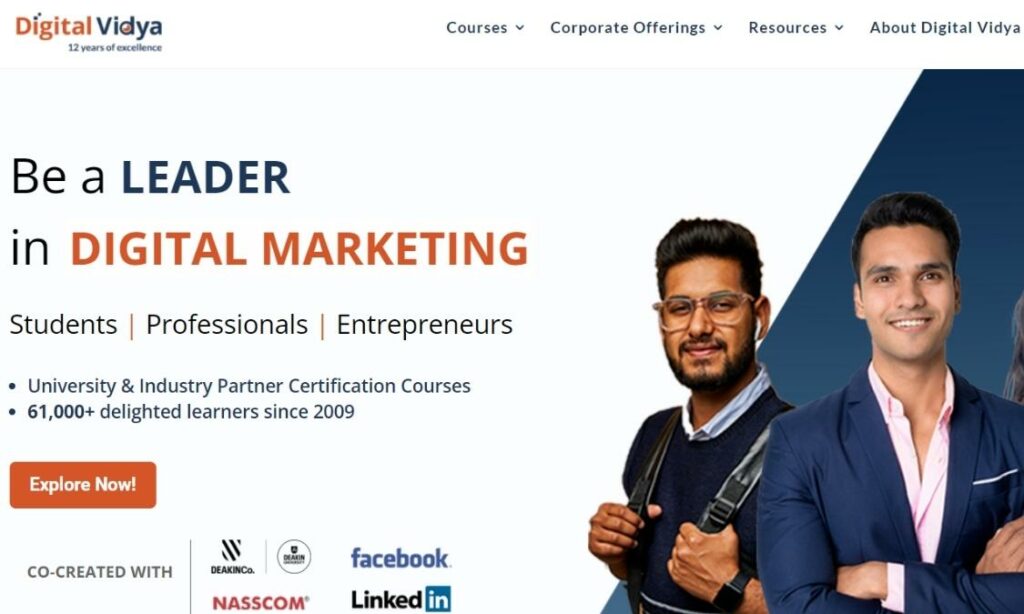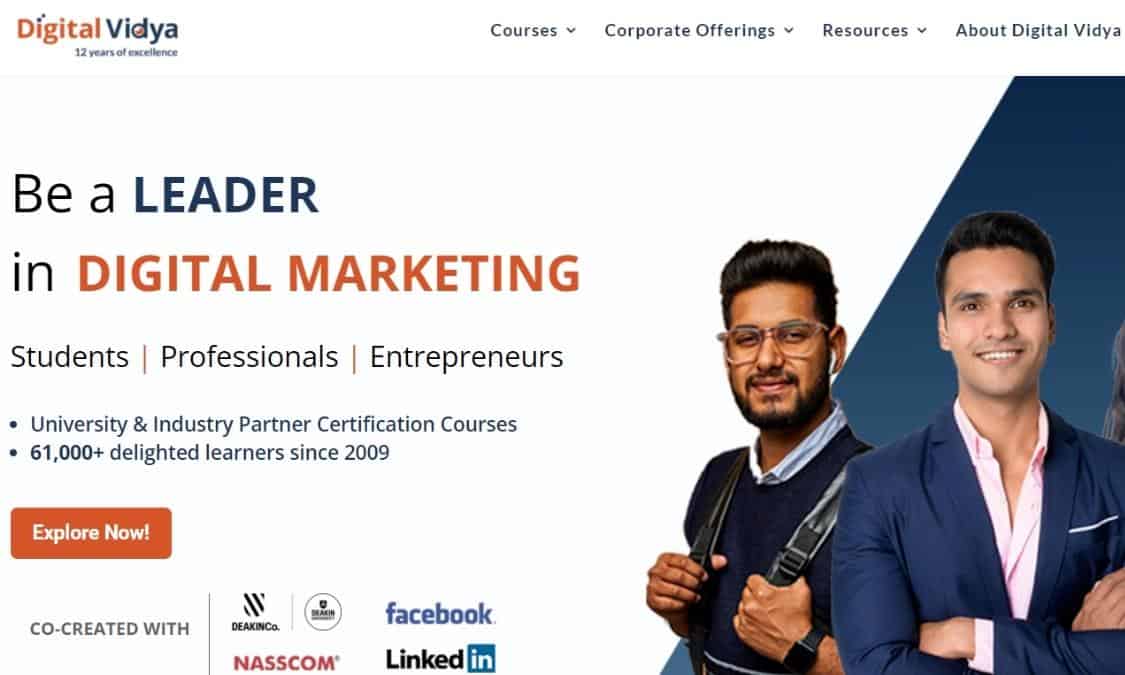 Digital Vidya is a course that ensures a 100 percent money-back guarantee. This means that if you're not satisfied with the course after attending their first live session, you'll get an unconditional refund of your money.
But for that, you must watch your first session completely and apply for the refund before the beginning of your second session.
Key highlights of the course are:
100 percent money-back guarantee
Lifetime access to the latest content
Complete the course at your leisure within 4-7 months
240 hours of learning
140 hours of assignment and case studies
Free tools worth INR 72000
Led by 15 industry experts
6 core modules
20 specialized modules
The six core modules cover topics of SEO, SMM, inbound marketing, SEM, email marketing and web analytics.
From the other 20 specialization modules, you learn about Facebook marketing, content marketing, blogging, performance marketing, media buying and planning, adobe analytics, ORM, Ecommerce listing, Mobile app marketing, programmatic marketing, etc.
Year of beginning – 2009
Founder – Pradeep Chopra
Fees – Rs 49,900(+18 percent GST)
Course duration- 240 hours
Mode of teaching – online or offline
Contact details – tel:+91-80100-33033
9. Freelancers Academy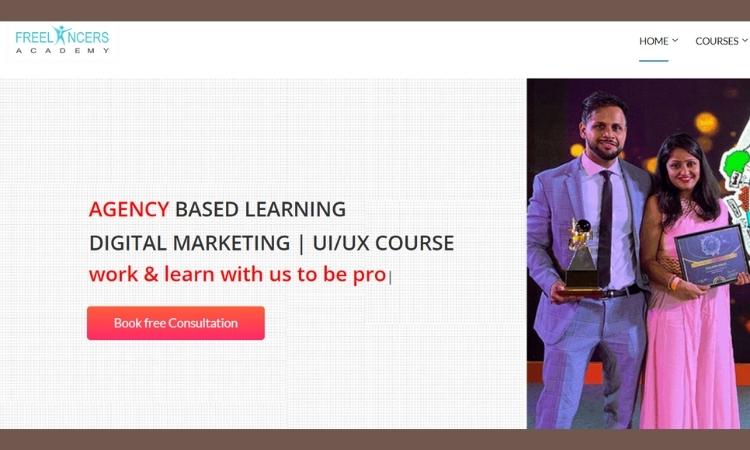 Freelancers Academy is not an institute but an agency. They offer one of the best courses in Navi Mumbai with placements.
You can choose to either take a classroom training or get an online certification. The trainers here have an experience of more than a decade.
Here are the key highlights of the course:
Recap session
100 percent placement assistance
2 months of classroom training
2 months of online studies
2 months internship
Flexible batch schedules
Exposure to live dashboard
They converge the focus on six pillars of digital marketing that are SEO, SMM, Search Engine Marketing(SEM), Social Media Optimization(SMO), video advertising and affiliate marketing. Apart from this, there's also WordPress, display advertising, google analytics, content marketing, mobile marketing, app store optimization, etc.
Founder – Azurah Jan
Fees – INR 30,000+
Course duration- 3-6
Mode of teaching – online or offline
Contact details –
Visit here for more information- https://freelancersacademy.com/
Conclusion
Few things you should be looking for are depth of content, placement assistance, internship opportunities, course fees, value of certifications and trainer's expertise. That is it. Hope it's now pretty easy for you to browse for a good digital marketing course in Mumbai.
FAQ's
Q. What are the digital marketing courses in Mumbai?
Ans: There are hundreds of digital marketing courses in Mumbai. The one's in the above list are the best one's. They give you knowledge, placement assistance as well as various other benefits.
Q. Which digital marketing courses are best in Mumbai?
Ans: All these courses are really great but if I have to choose one it would be DMAC 2.0 by Dmatic Digital. The trainer has years of experience in the industry and also you get access to lots of tools and content.
Q. Is digital marketing a good career option?
Ans: Looking at the growth and demand it is a great career choice. It has been predicted to be a 26 billion dollar industry by 2025.
Q. What is the average salary in Digital marketing jobs?
Ans: Average salary of a digital marketing professional at entry-level is around 6 lakhs per annum in India.
Q. What qualifications do I need for digital marketing?
Ans: There is no qualification required for you to enroll into a digital marketing course. Some courses require you to have a minimum college or high school level education.
Q. What are the courses in digital marketing?
Ans: There are many courses in digital marketing. The most common ones are
1. Beginner level course
2. Advanced course
3. Diploma