Digital marketing is something most of us are now familiar with and know the importance of. This Industry has experienced a strong boom in the past decade and made lakhs and crores of rupees to the people.
Advancement in technology and our dependence on the internet has made digital marketing a vital profession and a great skill to be acquired.
If you dig into the opportunities you'll get as a digital marketing professional; you'll find an entire treasure box of it.
You can work as an SEO executive, Content writer, Web developer, conversion and rate optimizer, web designer, digital agency account manager and a lot more.
In this article, I have listed down seven Best Digital Marketing courses in the capital of India – Delhi. I have done good research so you can save your precious time by not getting stuck and extracting information from numerous websites. Let's get started.
Top 7 Best Digital Marketing Courses in Delhi
1. Dmatic Digital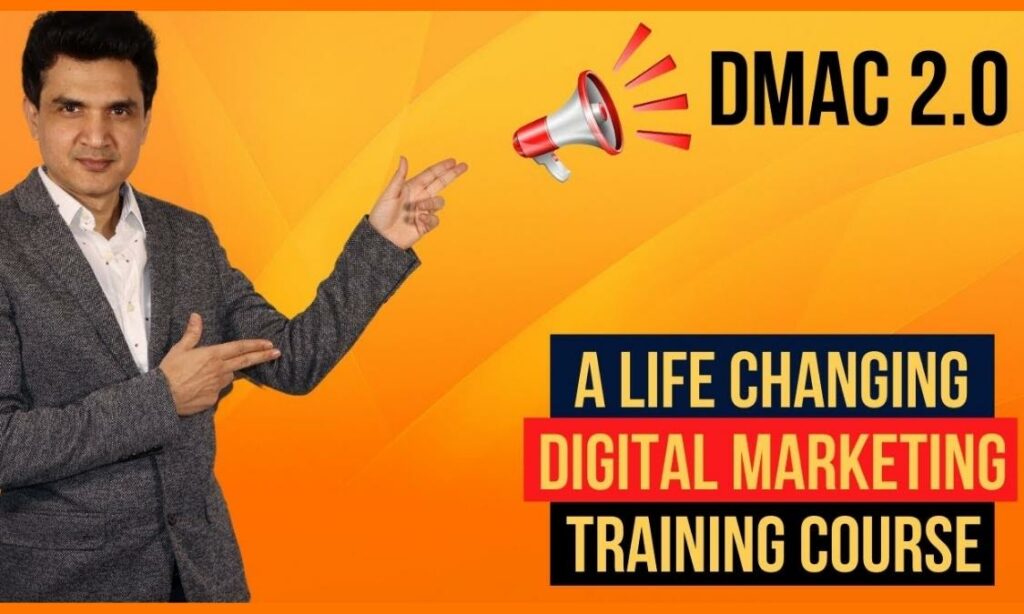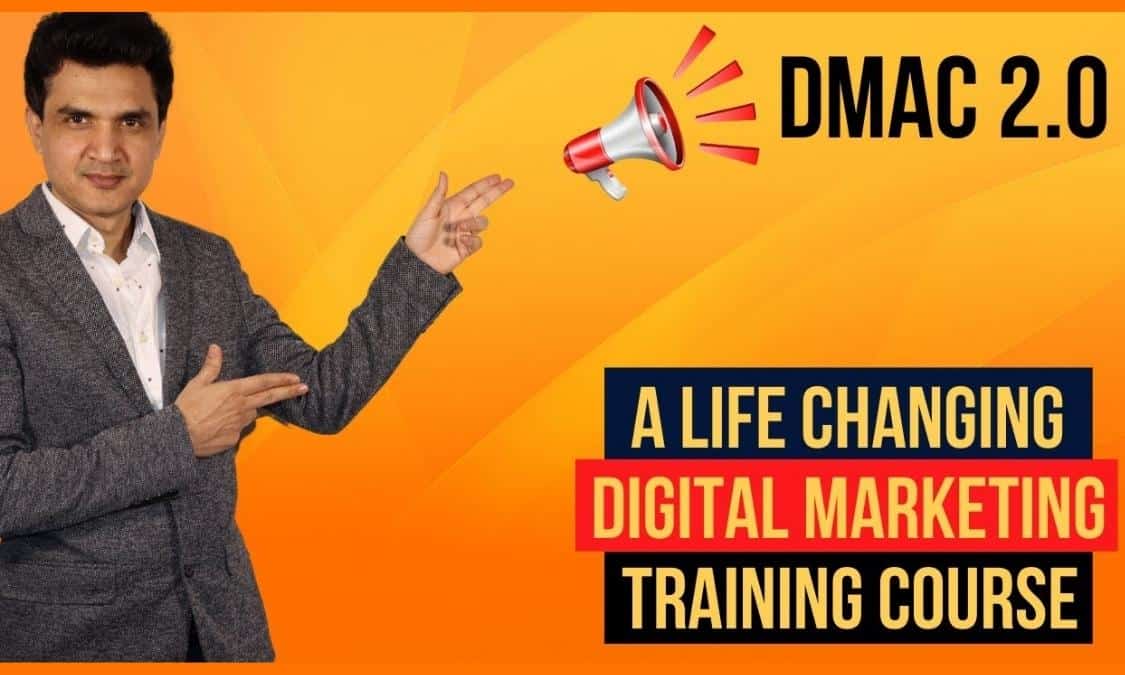 The course by Dmatic digital caters to all the skills you need to excel in the industry. It covers all the latest tools and advanced techniques to prepare you for your marketing endeavours.
This comprehensive course is taught by a trainer who carries the expertise and experience of more than 16 years.
Mr Pritam Nagrale, the trainer, is a successful Blogger, Youtuber and Entrepreneur. He has already touched the lives of thousands of youngsters and still continues to do so.
The course is named DMAC 2.0 and covers over 50 modules, 3 real-life projects, case studies, internship, practical training, etc. These modules include the following topics:
Search Engine Optimization
Social Media Marketing (SSM)
Website creation
Pay Per Click (PPC)
Google Analytics
Google Adsense
Online Reputation Management
Email marketing
Content writing
Lead Generation Technique
Webinar marketing
Landing page creation
Affiliate Marketing
Keyword research
Remarketing….and many more.
Not just technical skills, but you'll also master various soft skills such as communication skills, time management, group discussion, public speaking, professional speaking, business writing, and presentation skills.
2. Techstack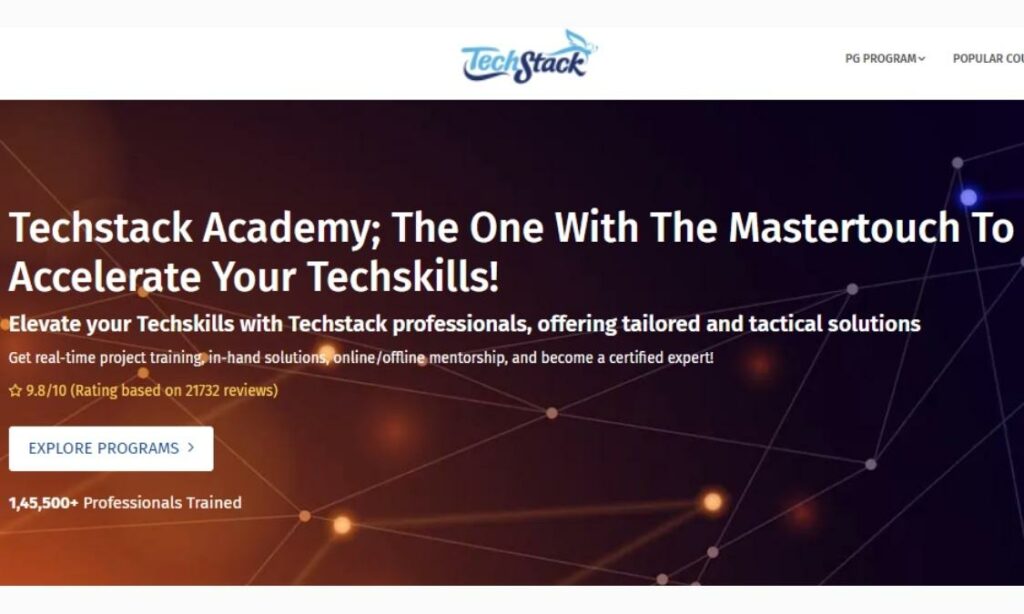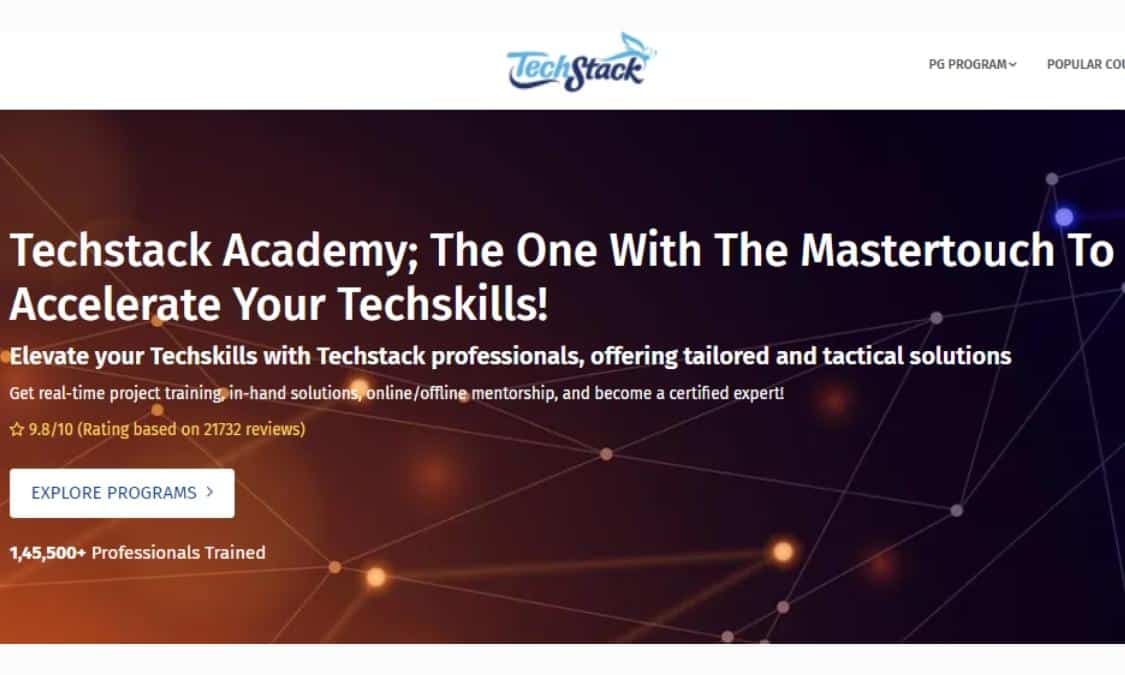 A well-established institute that has trained over 18000 professionals to date. It has a curriculum that covers an entire gamut of skills.
Its partners include google partners, Facebook marketing partners, Hubspot, amazon web services, yahoo preferred partner and Forbes.
Their course is compiled in a stack of 30 modules. They have experienced trainers and mentors who serve you with the best knowledge. The modules include:
SEO
Google webmaster
Website planning
Bing webmaster
Social media marketing and management
Google analytics
Creative designing
Content marketing
Google Adsense
Video optimization
Affiliate marketing
Keyword research
Local SEO
E-commerce SEO
Earn as a freelancer and more
As you qualify, you'll be rewarded 17 certificates and be given 100 percent placement assistance. Techstack has been in the industry for more than ten years.
It provides both online as well as offline courses to its students. Some of their graduates even earn more than 75 lakh rupees per annum.
Year of beginning – 2012
Founder – Manoj Singh Rathore
Course duration- 150+ hours
Mode of teaching – online or offline
Contact details – 1800 200 5835, +91 8828322444
Visit here for more information- https://www.techstack.in/
3. Digital Vidya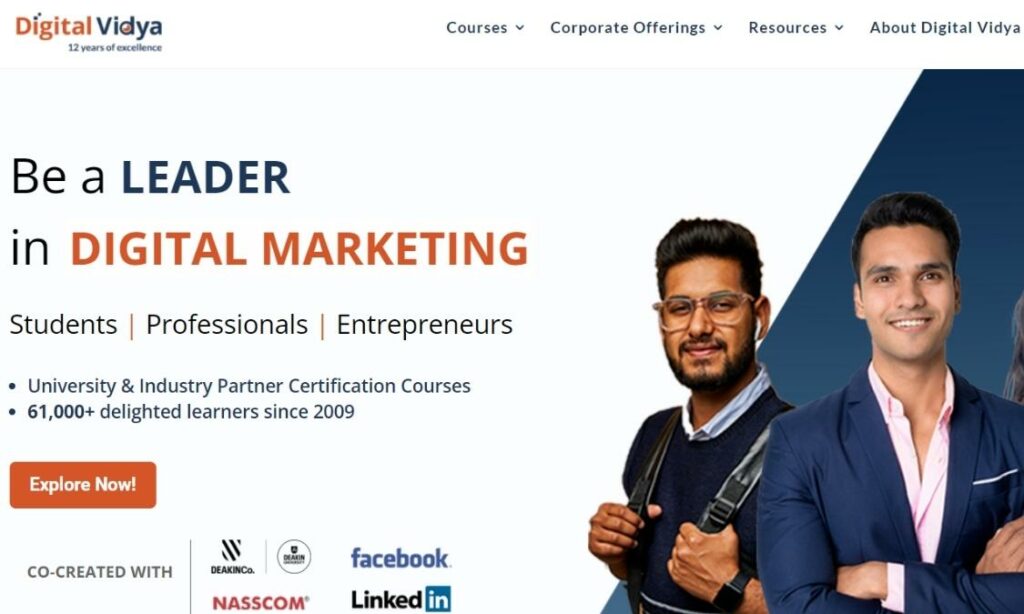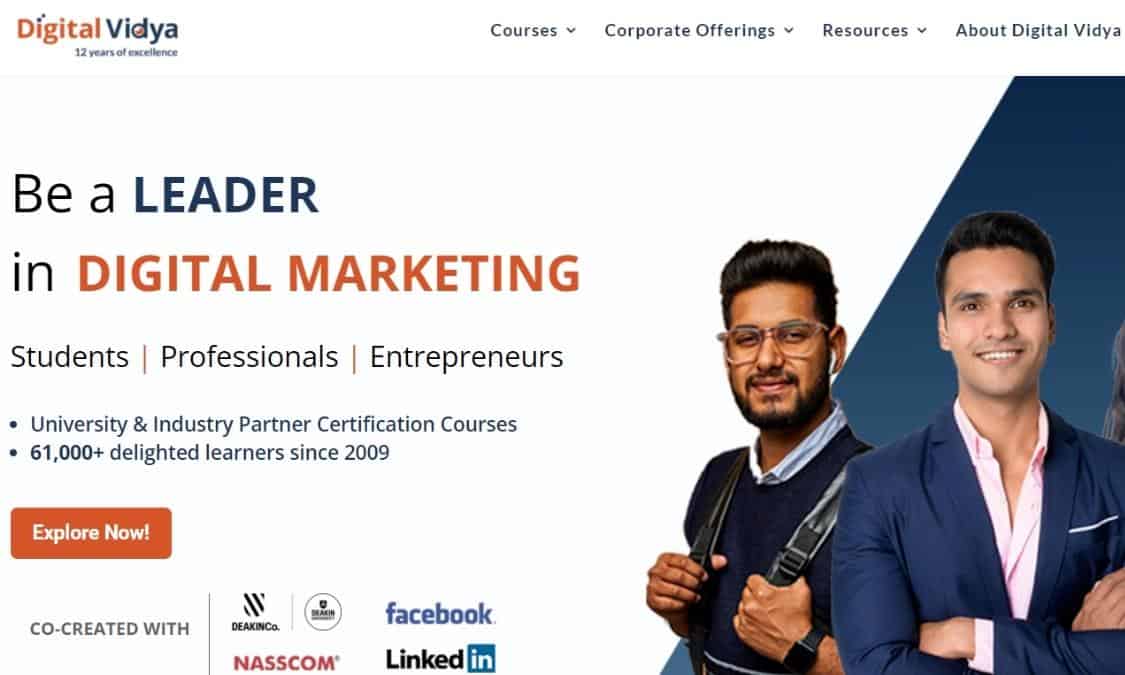 Digital Vidya is perhaps the only course that give you a 100 percent money-back guarantee. This means that in case you don't find the valuable course after attending their first live session, you'll get a full and unconditional refund of your money.
But, remember to watch your first session completely and apply for a refund before the start of your second session.
The course consists of over 240 hours of learning, including 140 hours of assignments and case studies. Not just this, you also get a guarantee of three job interviews and access to tools worth more than 72000 rupees.
You will study from six core modules, 20 specialization modules and expert pluggedin sessions. Here's a list of its core modules:
Email marketing
Social media marketing
Inbound marketing
Search Engine Marketing
Search Engine Optimization
Web analytics
The specialization modules include:
Facebook marketing
Super Blogging
Online Reputation Management
Media Buying and planning
How to Become a Freelancer in digital marketing
E-commerce listing vs website vs marketplace
Performance marketing
Adobe analytics – SiteCatalyst
Content marketing
Mobile App marketing101
Integrated digital marketing strategy
Growth hacking
Blogging for beginners
Programmatic marketing
How to create an Infographic resume? And more
Digital Vidya has over 61000 participants; 5700 completed training in more than 55 countries since 2009.
This practical and comprehensive program is led by over 15 industry experts who know their job. You also get lifetime access to their latest content. You can complete the course within 4 to 7 months at your leisure.
Year of beginning – 2009
Founder – Pradeep Chopra
Fees – Rs 49,900(+18 percent GST)
Course duration- 240 hours
Mode of teaching – online or offline
Contact details – tel:+91-80100-33033
Visit here for more information- https://www.digitalvidya.com/digital-marketing-course-in-delhi/
Also Read:
4. IElevate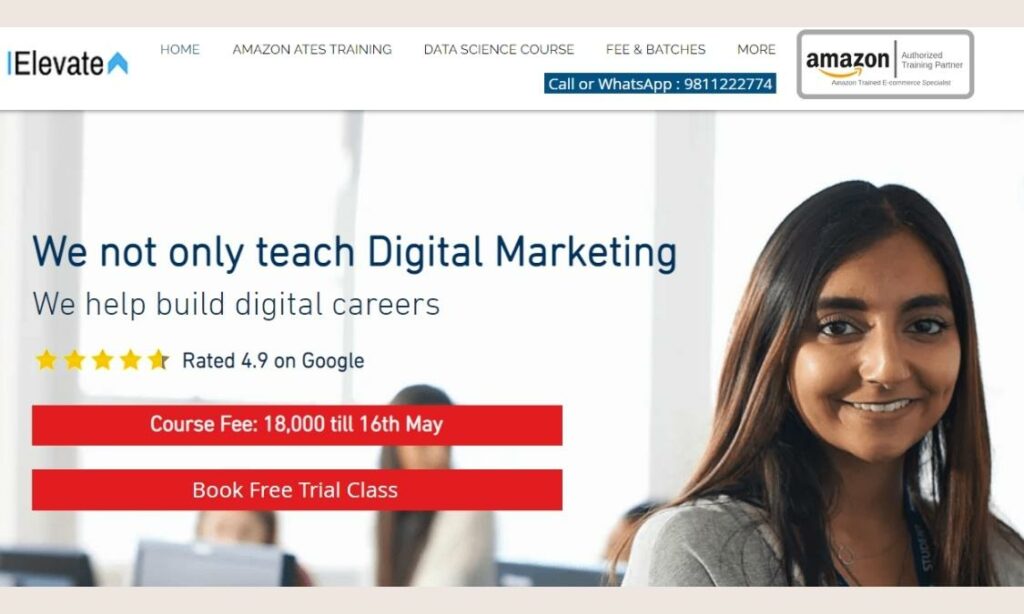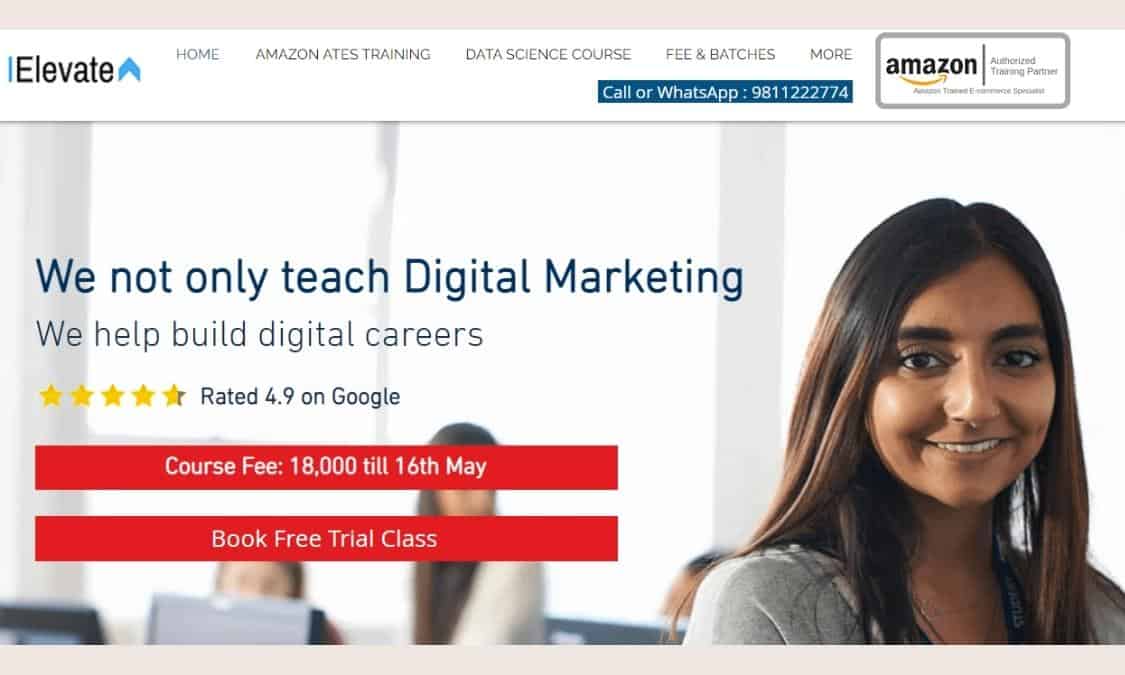 IElevate has a whopping collection of 93 highest and most advanced digital marketing modules to teach you.
You can enhance your resume as you will be certified with 16 certificates, including one's from the top 3 companies in the world. If you are not sure about enrolling, you can also apply for a trial class with them.
After completing the course, you can get registered with Amazon India as a Digital marketer Ecommerce consultant.
Worried about your placement? Don't, because IElevate gives you a 100 percent job placement guarantee and a corporate internship.
The topics covered by the institute include:
Search Engine Optimization
Bing Ads
Social Media Marketing
Google Analytics
Webmasters
Search Engine Marketing
WordPress
Google My Business
Video editing tools
Ad creative tools
Email marketing
Google Adsense
Affiliate marketing
Content writing
Lead generation tactics with landing pages and more
You can get a chance to work with companies like PAYTM, Tree Yogi, Clovia, GoMechanic and Carat pearl.
The training is also packed with features like session recordings, lifetime access to their online content, Interview handling skills, Free tools for practical training and unlimited access to Back up classes.
Year of beginning – 2014
Founder – Danielle Feerst
Fees – INR 20,000 – INR 24,000
Course duration- 4 months
Mode of teaching – online or offline
Contact details – tel:+91 9811222774
Visit here for more information- https://www.ielevate.in/
5. IITCD ( IT Training courses Delhi)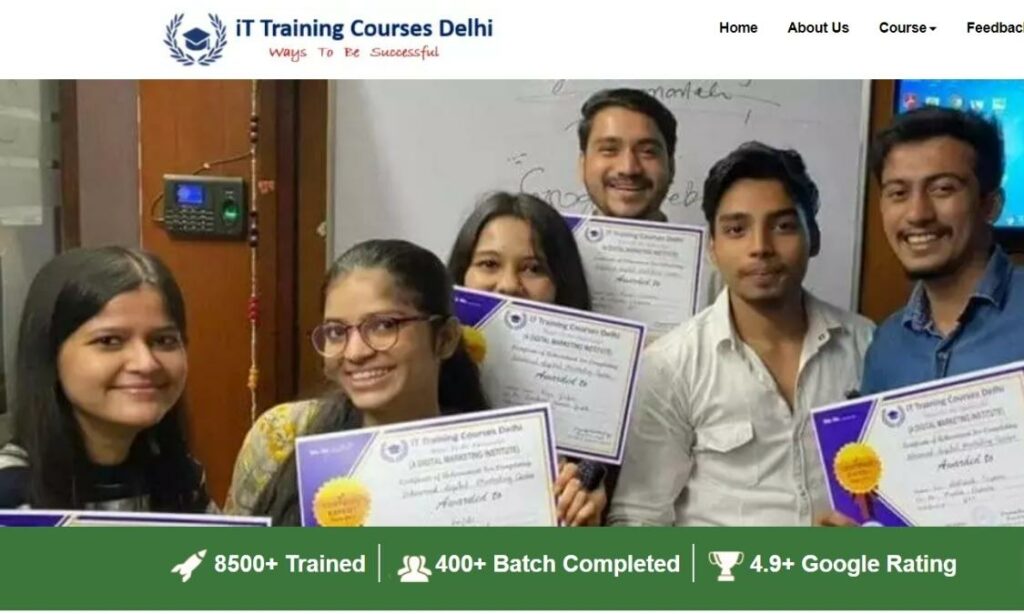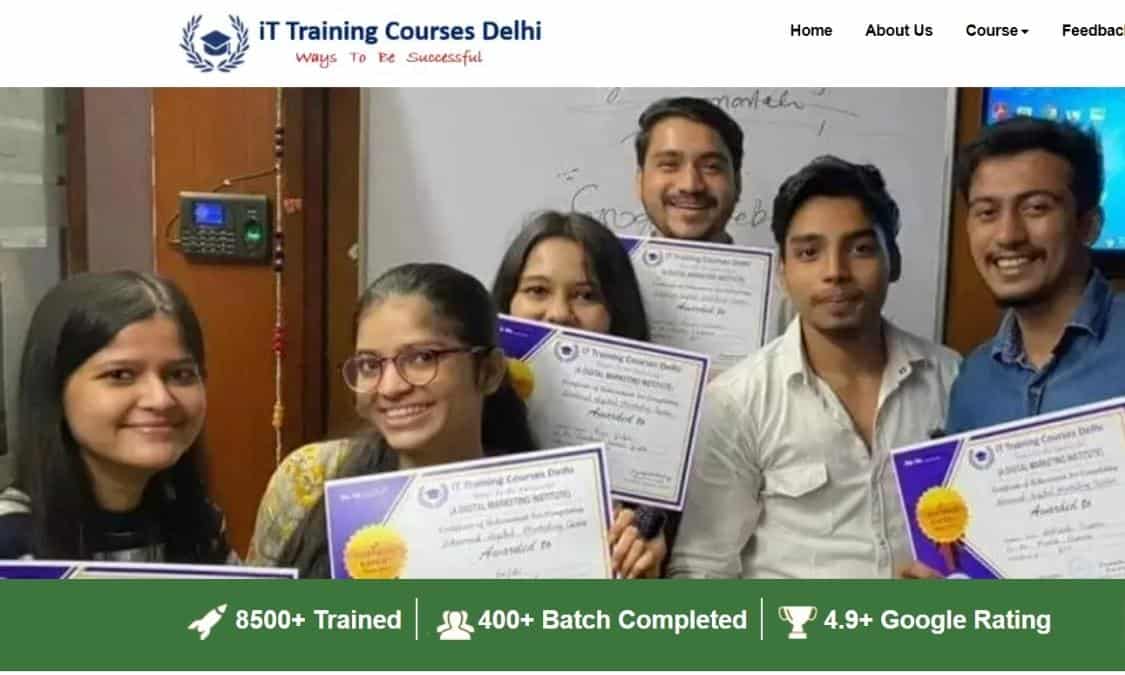 Course by IITCD is a very feasible and pragmatic course. The trainer here carries the experience of more than 10 years. IITCD India offers you 15 international certificates and covers 48 modules in its syllabus.
IITCD is started by Mr.Manish Kumar Singh. He is the founder, director and trainer for more than 8 years. The founder is also a skill development consultant and motivational speaker who's inspired thousands of people to date. Its modules include:
SEO
SMM
PPC
Google analytics
Affiliate marketing
Content Marketing
Website structure
Domain and Web hosting
HTML website
WordPress
Keyword research
Google Adsense
ORM
Influencer marketing
Online Earnings secrets
They offer both online as well as offline courses. You also enjoy 100 percent placement assistance.
Year of beginning – 2013
Founder – Mr Manish Kumar Singh
Fees – INR 21000
Course duration- 3 months
Mode of teaching – online or offline
Contact details – tel:9971050903
Visit here for more information- https://www.ittrainingcoursedelhi.in/digital-marketing-course-in-delhi.html
6. Avyud academy of digital marketing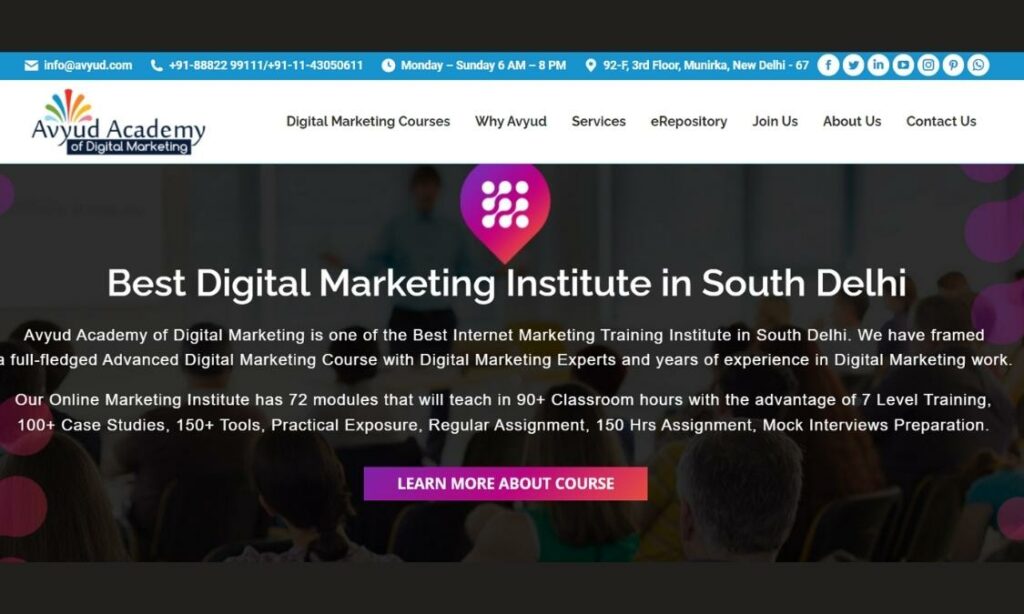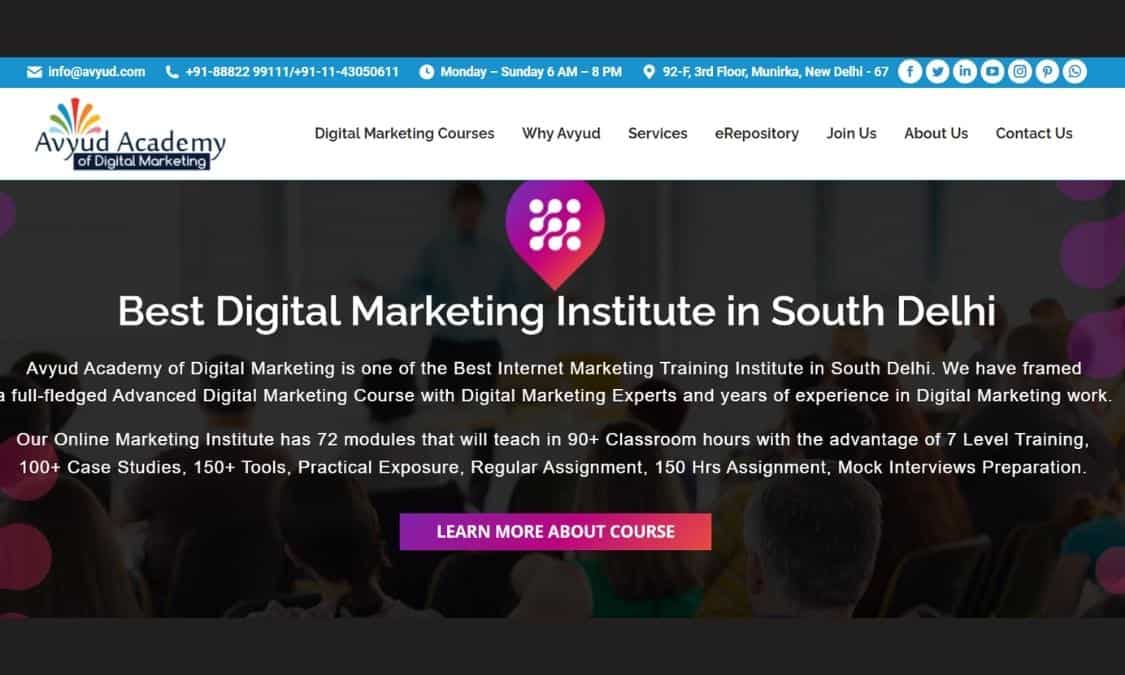 Avyud Academy has been providing digital marketing courses in South Delhi for more than 6 years now. It has completed training of over 153 batches in such a short duration. Even though it's relatively new in the industry, they are still one of the best.
Avyud academy's course covers :
SEO
Marketing and Branding
Social media fundamentals
Graphic design and Canva
Domain and Hosting
Keyword and Hashtag research
SMM
OnPage SEO
Google Ads
PPC
Whiteboard animation video
Online collaboration tools
Schema and google penalty
Growth hacking fundamentals
Affiliate marketing and more
The course has 72 modules in total, 7 level training, more than 100 case studies, over 150 tools and rewards more than 10 certifications.
They provide 75 percent of practical training to their students. You get regular assignments and assessments as well as guidance by trailers with a robust experience.
Year of beginning – 2015
Founder – Naveen Bhartiya
Fees – Rs 45,000+
Course duration- 90 hrs+
Mode of teaching – online and offline
Contact details – https://www.avyud.com/digital-marketing-institute-contact-us-in-delhi/
Visit here for more information- https://www.avyud.com/advanced-digital-marketing-course/
7. Skill circle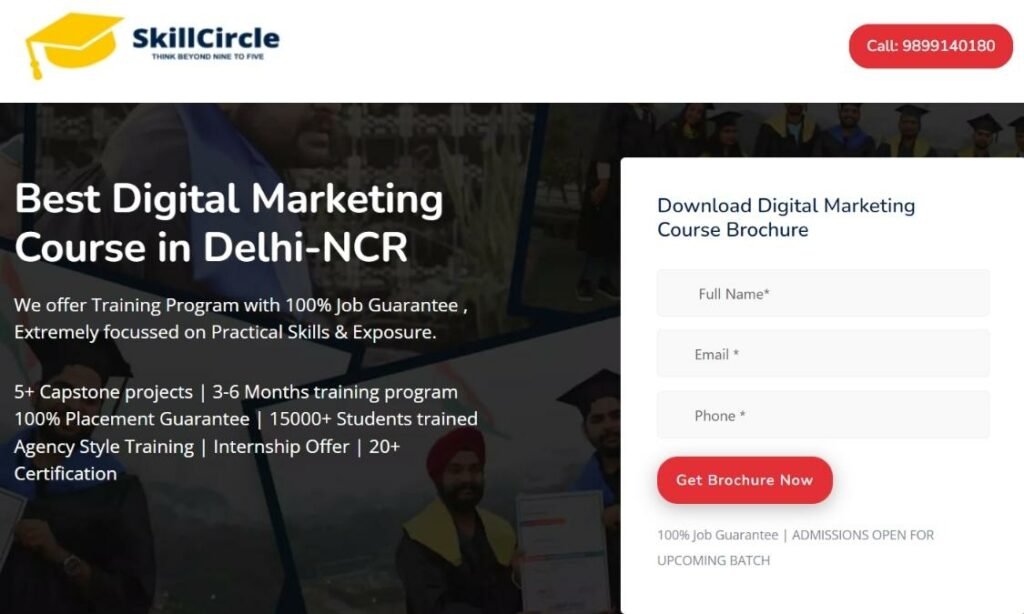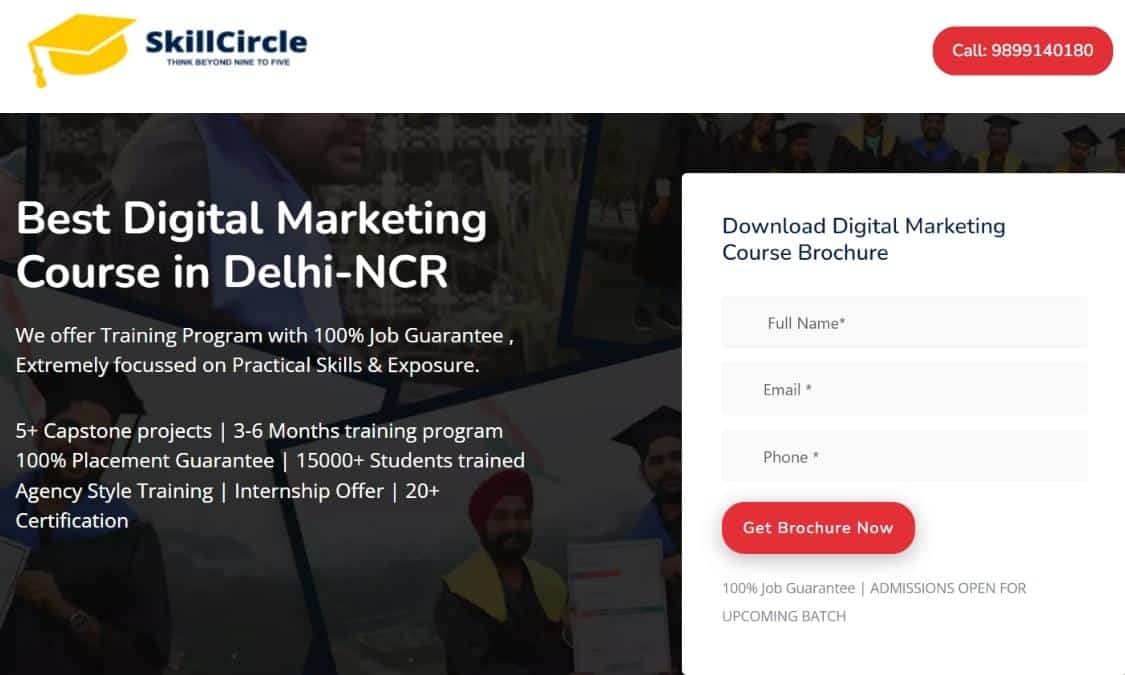 Skill circle has already trained a circle of more than 14,500 students. Mr Shivam Ahuja, the founder, is known as the startup machine in India.
He's empowered hundreds of startups in growing and achieving their goals. They are located in over 18 places in Delhi, including Connaught Place, East Delhi, Ghaziabad and Gurgaon.
They provide India's first agency style training, have over 500 placement partners, have 20 globally accepted certificates, the guidance of more than 100 mentors in the industry, and give you access to their private community of mentors.
They offer four types of courses in digital marketing. This includes Foundational course, skill degree, master's and Diploma in Digital marketing. Their foundation course has 21 lectures, and the course duration is of 128 hours.
Year of beginning – 2014
Founder – Shivam Ahuja
Fees – Rs 35,000+
Course duration- 128 hrs
Mode of teaching – online and offline
Contact details – https://www.skillcircle.in/contact/
Visit here for more information- https://www.skillcircle.in/courses/foundation-in-digital-marketing/
Conclusion
I hope this article helped you find the exact course you need for your career. You can visit the links provided to know the terms and conditions as well as more about the course content in detail.
FAQ's
Q. What are the digital marketing courses in Delhi?
Ans: There are hundreds of digital marketing courses in Delhi. The ones I mentioned in the above list are some of the best ones.
Q. Which digital marketing courses are best in Delhi?
Ans: All these courses are really great, but if I have to choose one, it would be DMAC 2.0 by Dmatic Digital. It's because of the quality content it teaches and the trainer's years of experience in the industry.
Q. Is digital marketing a good career option?
Ans: Looking at the growth and demand, it is a great career choice. Not just as a professional but also as an Entrepreneur of modern business.
Q. What is the average salary in Digital marketing jobs?
Ans: Average salary of a digital marketing professional at entry-level is around 6 lakhs per annum in India.
Q. What qualifications do I need for digital marketing?
Ans: There is no qualification required for you to enroll into a digital marketing course. Even if you're a stay at home mom, you can still bag a good work from home job for yourself.
Q. What are the courses in digital marketing?
Ans: There are many courses in digital marketing. The most common ones are
1. Beginner level course
2. Advanced course
3. Diploma